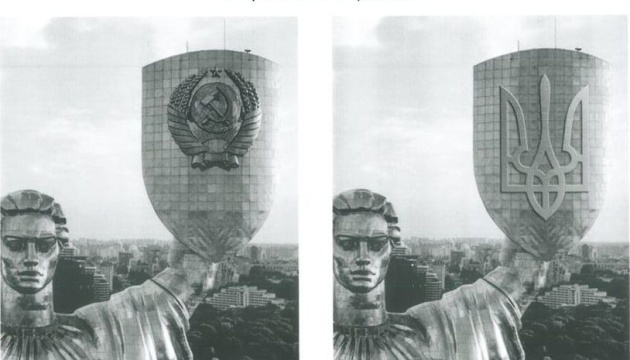 Trident replaces Soviet coat of arms on Motherland monument in Kyiv - work permit issued
The State Inspectorate of Architecture and Urban Planning of Ukraine has issued a permit to repair the shield of the Motherland monument in Kyiv.
The Ministry of Communities, Territories and Infrastructure of Ukraine reported this on Facebook, according to Ukrinform.
"The design decisions provide the Trident to be placed on the monument's shield, which corresponds to the image on the small State Emblem of Ukraine. The Trident will replace the old Soviet coat of arms," the statement said.
It is noted that the customer of the construction is the National Museum of the History of Ukraine in World War II. Work is expected to start in the near future.
As reported, the Motherland monument was built in 1981 and is a monument of science and technology of local importance. The monument is considered the tallest monumental sculpture in Europe.
In 2022, in Diia, 85% of 800,000 Ukrainians voted to replace the Soviet coat of arms with a trident.