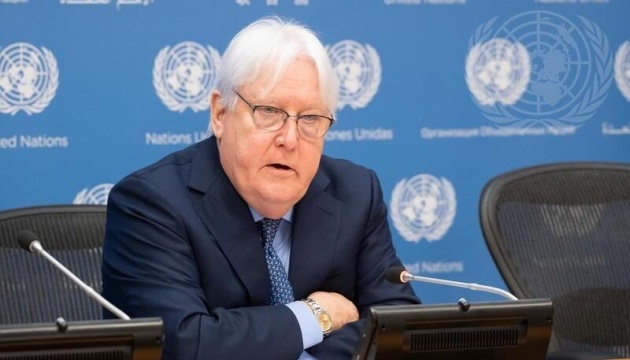 UN tells of three-phase response plan for disaster in southern Ukraine
The UN's three-phase response plan for the disaster caused by the destruction of the Kakhovka dam includes getting people to safety, delivering life-saving supplies, and assessing the longer-term consequences.
That's according to UN Emergency Relief Coordinator Martin Griffiths, an Ukrinform correspondent reports, citing the UN press service.
"We need to focus on an emergency response right now," he said, highlighting a three-step plan to provide humanitarian assistance to all Ukrainians impacted. "We need to save people and get them to places where they are safe and can eat, and get safe drinking water."
Four days since the destruction of the dam in southern Ukraine, flooding has started to recede, although the disaster is still causing displacement and rising humanitarian needs, according to the UN Office for the Coordination of Humanitarian Affairs (OCHA), which Griffiths heads.
More than 2,500 people have been forced to leave their homes in areas of the Kherson region under Ukrainian control (320 people displaced over the past 24 hours). Nearly 40 villages and towns have been severely affected by the flood, with more than 3,620 houses recorded as damaged to date.
Highlighting the UN's three-phase response plan, the UN relief chief said an appeal for emergency assistance is also in the works.
Responding to media reports referring to Ukrainian President Volodymyr Zelensky's comments on the slow reaction by aid agencies, Griffiths said an immediate response had always been the priority.
"I understand the President's frustration," he said. "What we focused on was trying to get the response moving as quickly as possible."
Providing an update on recent efforts, he said two convoys departing on Thursday had reached 30,000 people in Kherson along with another delivery made on Friday, adding that "the engine is moving."
According to him, phase one priorities in the coming days will be to continue to both rescue people and deliver medical supplies and food aid, including via boats operated by the World Food Programme (WFP).
The next phase will aim at reaching those in need, including the 700,000 people who currently lack safe drinking water, and providing livelihood assistance.
Examining the environmental and economic consequences will make up part of phase three, he said. This may be the most "awful shock" to the people of Ukraine and the global South, because it is bound to have an effect on food security as the "bread basket" of Ukraine is most certainly going to be affected, he warned.
Griffiths added that his office was seeking permission from Russian occupation authorities to have safe access across lines to provide humanitarian aid to the victims.
"Our message to the region is one of solidarity and sympathy," he said. "We stand by you in this time of need."
Early on June 6, Russian troops blew up the dam of the Kakhovka hydroelectric power station. The plant cannot be restored. Evacuations of people from flooded areas are underway.
On June 8, Russian shelling in the Kherson region injured nine people, including two employees of Ukraine's State Emergency Service, a police officer, a doctor and a German volunteer.