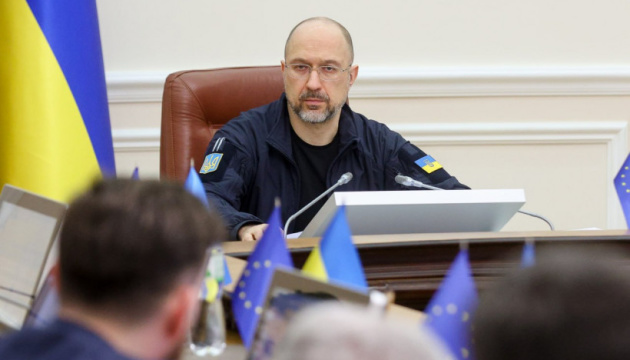 PM Shmyhal calls on int'l humanitarian organizations to evacuate people from Russian-occupied areas amid flood
Prime Minister Denys Shmyhal of Ukraine on behalf of the government called on international humanitarian organizations to take on the issue of evacuating people from the Russian-occupied territories of Kherson region, who are suffering from the disaster caused by the Russian invaders blowing up the Kakhovka HPP dam.
That's according to a video appeal posted on Shmyhal's Telegram channel, Ukrinform reports.
In particular, Shmyhal appealed to the leadership of the UN, International Committee of the Red Cross, and other international humanitarian organizations regarding the consequences of the blowing up of the Kakhovka HPP dam by Russian troops.
He said that dozens of settlements were flooded as a result of this "horrifying" terrorist attack.
According to him, the authorities organized the evacuation from the territory of Kherson region controlled by Ukraine, but on the left bank, under temporary occupation, people are left to their own devices by the Russians.
Shmyhal emphasized that hundreds of houses literally disappeared under water and people were forced to leave their homes on their own, and those who were unable to do so were trapped by the disaster.
"International humanitarian organizations, on behalf of the government of Ukraine, I urge you, you must act immediately. We appeal to you to take charge of evacuating people from the territories of Kherson oblast occupied by Russia. We must save the lives of these people, whom the occupiers have condemned to death. We must act now!" Shmyhal stressed in his address.
As reported, on the night of June 6, the Russian army blew up the Kakhovka HPP dam. In Kherson region, the evacuation of the population from areas at risk of flooding due to the explosion of the Kakhovka dam, has begun. Law enforcement have initiated an investigation under the article "ecocide" of the Criminal Code after the occupiers blew up the Kakhovka HPP dam.
Ukrhydroenergo stated that the HPP is completely destroyed and cannot be restored.