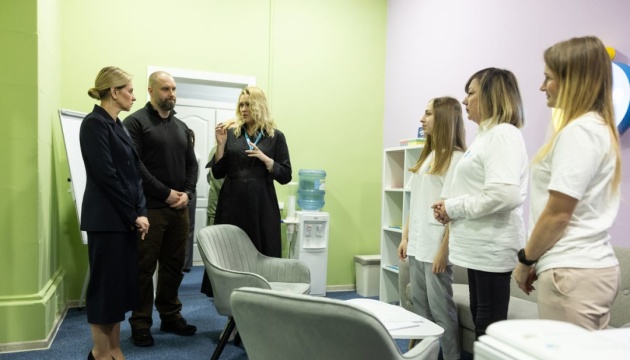 Zelenska visits children's multifunctional centre "Spilno" in Kharkiv
President's wife Olena Zelenska visited the UNICEF Children's Multifunctional Centre in Kharkiv, which provides children with a comprehensive opportunity to learn, relax and address urgent mental health issues.
She announced this on Telegram, Ukrinform reports.
"A multimedia room for recording video lessons and podcasts is a real dream for modern 'multimedia' children. This unique and at the same time accessible option is available at the Kharkiv Regional Centre for Psychological Assistance to Children, where the UNICEF Children's Multifunctional Centre "'Spilno' operates. All conditions have been created here for schoolchildren who are forced to study online but do not have the necessary means to do so," the first lady said.
According to her, parents and grandparents who accompany their children have a coworking space - a comfortable and interesting waiting area that allows them to learn, watch and read useful things for themselves.
She also noted that one of UNICEF's signature playgrounds, "Spilno", which is currently being opened across the country, entertains and inspires children.
At the same time, Zelenska stressed that an important focus of the centre is psychological support, which helps children and adults overcome the stresses of war, understand relationships and feelings, and understand themselves and others.
" Visiting the children's centre during my visit to the Kharkiv region, I was once again convinced that the future is all about complexity. Education, recreation and assistance work better together," the President's wife added.
As reported earlier, a monument to Ukrainian children who died as a result of Russia's armed aggression was unveiled in Kharkiv on the eve of the International Day of Innocent Children Victims of Aggression.