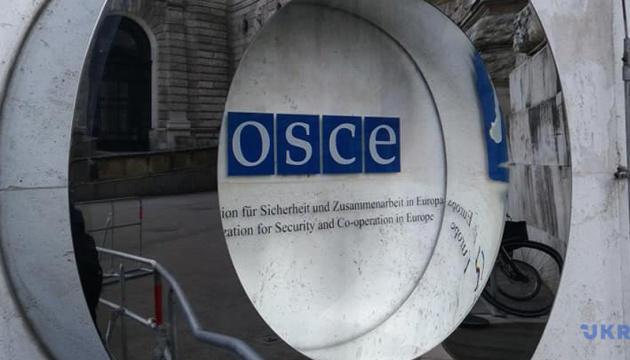 OSCE invokes "Moscow Mechanism" over deportation of Ukrainian children to Russia
The OSCE has initiated the "Moscow Mechanism" as a response to the forced transfer and deportation of Ukrainian children to the Russian Federation in the wake of rights violations and humanitarian implications of Russia's war of aggression against Ukraine.
German Ambassador to the OSCE, Gesa Bräutigam, delivered the relevant statement on behalf of 45 OSCE participating states, Ukrinform's own correspondent reports.
"Gravely concerned by the continuing impacts of Russia's ongoing aggression against Ukraine, in particular on the civilian population, including children, the delegations of Albania, Andorra, Austria, Belgium, Bosnia and Herzegovina, Bulgaria, Canada, Croatia, Cyprus, Czech Republic, Denmark, Estonia, Finland, France, Georgia, Germany, Greece, Hungary, Iceland, Ireland, Italy, Latvia, Liechtenstein, Lithuania, Luxembourg, Malta, Republic of Moldova, Monaco, Montenegro, Netherlands, North Macedonia, Norway, Poland, Portugal, Romania, San Marino, Serbia, Slovakia, Slovenia, Spain, Sweden, Switzerland, Türkiye, the United Kingdom, and the United States of America), following bilateral consultations with Ukraine under the Vienna Mechanism, invoke the Moscow (Human Dimension) Mechanism under Paragraph 8 of that document," the statement said.
The signatories request that ODIHR inquire of Ukraine whether it would invite a mission of experts "to build upon previous findings and establish the facts and circumstances surrounding possible contraventions of relevant OSCE commitments, violations and abuses of human rights, and violations of international humanitarian law and international human rights law, as well as possible cases of war crimes and crimes against humanity, associated with or resulting from the forcible transfer of children within parts of Ukraine's territory temporarily controlled or occupied by Russia and/or their deportation to the Russian Federation."
The mission will be tasked "to collect, consolidate, and analyze this information with a view to offer recommendations, as well as provide the information to relevant accountability mechanisms, as well as national, regional, or international courts or tribunals that have, or may in future have, jurisdiction."
"We also invite ODIHR to provide any relevant information or documentation derived from any new expert mission to other appropriate accountability mechanisms, as well as national, regional, or international courts or tribunals that have, or may in future have, jurisdiction," the statement says.
As Ukrinform reported earlier, the Moscow Mechanism is a procedure laid down in the Moscow Document of the OSCE Conference on the Human Dimension of the OSCE, held in Moscow in 1991.
The mechanism enables a group of 10 or more OSCE participating states to create a mission of independent experts to study a particularly serious threat to the fulfillment of human rights obligations in one of the participating states. In coordination with the OSCE's permanent body in the human dimension, the Office for Democratic Institutions and Human Rights (ODIHR), such a mission should establish relevant facts, draft a report, and may also provide recommendations on possible solutions.
Previously, on March 16, a comprehensive report of the Independent International Commission to Investigate Violations in Ukraine, established by a resolution of the UN Human Rights Council, was made public. The report says Russian authorities have committed numerous violations of international law, human rights, and international humanitarian law in various regions of Ukraine and in the Russian Federation itself. Many of these violations amount to war crimes and include intentional killings, attacks on civilians, illegal detention, torture, rape, and forced displacement and deportation of children.
On March 17, the Pretrial Chamber II of the International Criminal Court issued warrants for the arrest of Russian President Vladimir Putin and Children's Ombudsperson Maria Lvova-Belova. They are suspected of war crimes – illegal deportation and transfer of the population, including children, from the temporarily occupied territory of Ukraine.