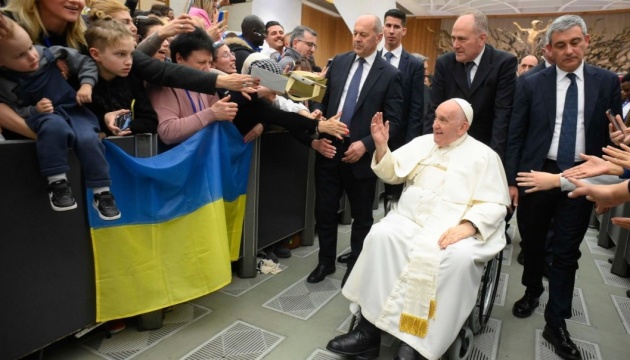 Pope to Ukrainian refugees: I pray for peace in your country
Pope Francis met in the Vatican with refugees, including those from Ukraine, who arrived in Europe via humanitarian corridors.
This is reported by Vatican News, according to Ukrinform.
"There are many Ukrainian refugees among you. I want to tell them that the Pope does not renounce the search for peace, does not stop hoping for peace and praying for it. I do this for your long-suffering country and for others who are suffering from war," the Pope said in a speech prepared for the meeting.
As noted, at the meeting, the pontiff read only a few paragraphs from this speech, supplementing them with some impromptu comments. At the same time, he ordered that its original text be published.
He devoted the time saved to speaking with those in attendance.
Addressing the refugees, the Pope noted that they had to start a new life. "You learned a new language and got to know a new society. All this was difficult, but it bore fruit. I am telling you this as the son of an emigrant family that went through the same path. Your good example and your diligence help disprove the fear and anxiety of strangers. Moreover, your presence can be a blessing for the country in which you are staying, whose laws and culture you have learned to respect," the head of the Holy See is convinced.
He called humanitarian corridors "a practical way to prevent the tragedies and threats associated with human trafficking," and noted that the initiative "remains tragically relevant and more necessary than ever."
As reported earlier, Pope Francis stated that he is ready to visit Kyiv, but on the condition that he travels to Moscow as well.