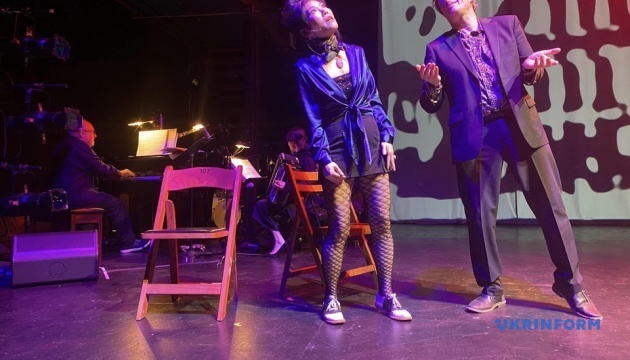 Zhadan presents in NYC jazz musical about Kharkiv
The avant-garde jazz musical Radio 477, directed by Les Kurbas, premiered in New York City. The lyrics for the piece were penned by Ukraine's famous poet Serhiy Zhadan.
According to Ukrinform's own correspondent, the musical, which conveys the atmosphere of Ukrainian Kharkiv, was performed in English at Manhattan's La MaMa.
Virlyana Tkach, founder and head of the Yara art group, told Ukrinform that the piece, originally staged at Kharkiv's Berezil Theater in 1929, was considered lost during Stalin's repression campaign. The lyrics written for the musical by Mike Johansen were not preserved.
"During a trip to Ukraine, I found a copy of the conductor's score in the Kharkiv archives and asked a U.S. composer Anthony Coleman to look into it," says the director.
According to Tkach, he was quite surprised that people played jazz in Kharkiv at that time.
Coleman, who is also the conductor in the musical, explained to Ukrinform that he used elements from the original score, but wrote a completely new piece.
After the gig, Zhadan read a number of his poems, while Reginald Dwayne Betts, founder and director of the Freedom Reads, delivered their renditions in English.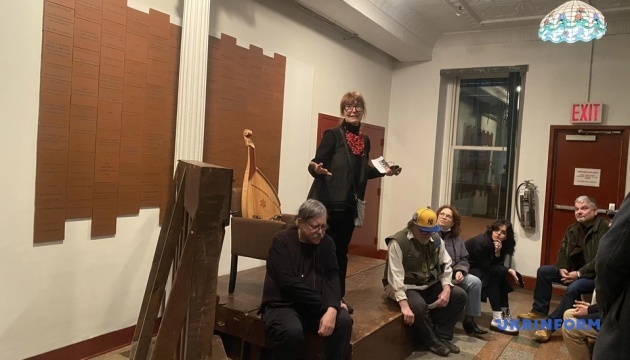 Photo: Volodymyr Ilchenko, Ukrinform
As Zhadan told Ukrinform, the main goal of his two-week tour across the USA is to raise money to support the Ukrainian Army.
According to the poet, who has already toured many cities, he was best received by the New York public.
An acclaimed American historian Timothy Snyder, who also attended the premiere, emphasized in a conversation with the Ukrinform correspondent that Americans should make every effort to further support Ukraine.
Zhadan's musical will be performed in NYC through March 19.
As Ukrinform reported earlier, Zhadan put out for sale at a New York auction battle flags of Ukraine's Charter voluntary unit with the signatures of fighters, starting at $2,100 per lot, as well as his books signed off by Commander-in-Chief of Ukraine's Armed Forces Valeriy Zaluzhnyi, for $1,100 and $1,150.
Serhiy Zhadan is a Ukrainian poet, novelist, essayist, musician, translator, and social activist. His literary works have received numerous national and international awards and have been translated into more than twenty languages, making the author one of the most famous modern Ukrainian writers.