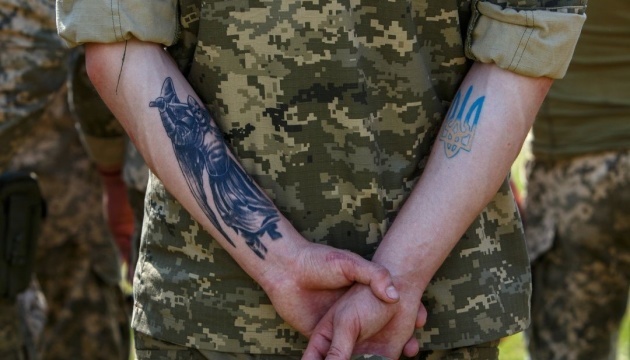 Russian fake story about tattoo in Lviv: For 'fascist' symbols – a photo shoot with 'Leopard' tank
Among the "author's" sketches of a fake promotion are primarily the Azov Regiment symbols
Russia's propaganda Telegram channel, which positions itself as the southern bureau "Solovyov LIVE", shared a video showing promotional flyers from the alleged Lviv tattoo parlor "SlidTattoo". Propagandists offer customers of the tattoo studio to get patriotic "author's" tattoos and as a bonus receive a gift certificate for a photo shoot with a "Leopard" tank. The relevant sketches are provided below, including the Azov Regiment emblem. In the video caption, the authors of the z-channel wrote that tattoo sketches would contain fascist symbols.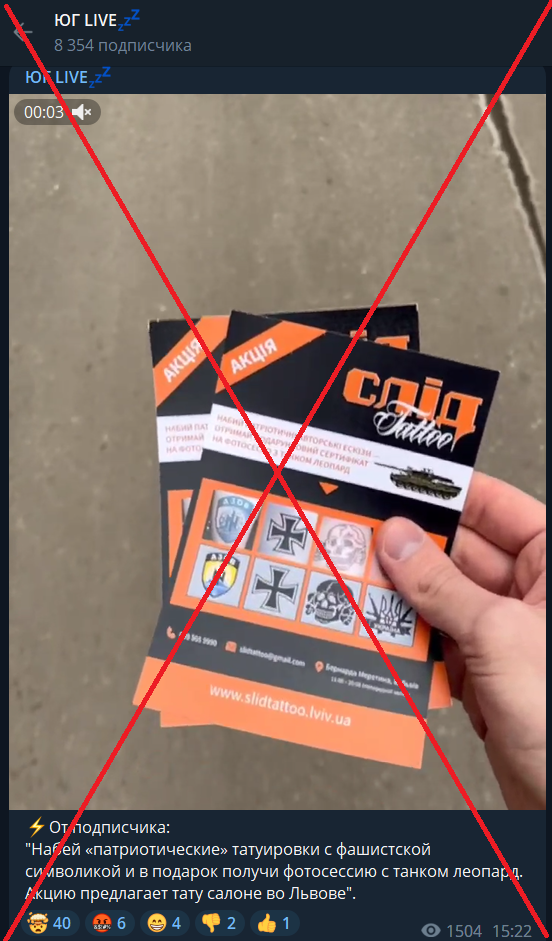 The post is another fake story. First, there is no information about this promotion in the social networks and official website of the tattoo parlor. In addition, representatives of the tattoo studio said in a comment to Ukrinform that they hadn't heard of the promotion and officially denied this fake story on their Instagram page.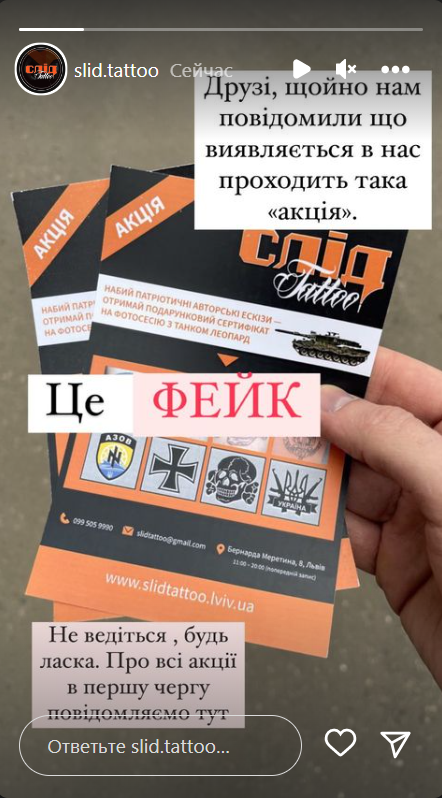 In addition, the propagandists used the Azov Regiment emblem, which has nothing to do with fascism. As it is known from open sources, the founder and first commander of the Azov Regiment, Andriy Biletsky, stated that when choosing the emblem, the representatives were guided exclusively by its Ukrainian content. In addition, he emphasized that it does not contain references to medieval German heraldry, moreover, the symbols of National Socialist Germany.
This is not the first time that the Russians are trying to emphasize the presence of fascism or Nazism in Ukraine by creating fake stories around the tattoo industry. Earlier, Ukrinform refuted a fake story that a tattoo with Nazi symbols was allegedly removed at half price in a Ukrainian tattoo studio. Then it turned out that the propagandists fabricated a photo of a Russian tattoo studio, claiming it was as a Ukrainian one.
Dmytro Badrak