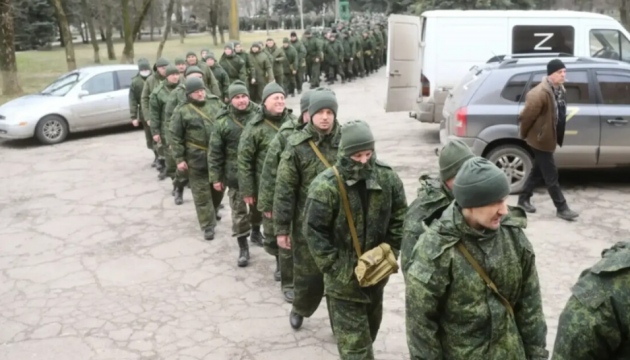 Russians would support war in Kazakhstan, Baltic states - poll
In January, 60% of Russians already had a negative attitude to the potential second wave of "partial mobilization" that could be launched in the country.
This is evidenced by a survey run by the Institute of Conflict Studies and Analysis of Russia (IKAR), Ukrinform reports with reference to the think tank's Telegram channel.
At the same time, as early as December 2022, the majority of Russians called partial mobilization, which began last fall, a "correct step."
It is noted that the respondents mostly support the idea of bringing the number of Russian troops to 1.5 million and involving convicts and the Belarusian army, in hostilities against Ukraine.
Also, according to the survey, there are now more people in Russia who have relatives or acquaintances mobilized for the war against Ukraine: compared to early December (60%), their share has increased to 69%. As a result, the number of Russians whose relatives and/or acquaintances have already been killed in Ukraine also increased – from 29% in December to 36% in January.
In general, the main event of 2022 for Russians (72%) is the "special military operation against Ukraine," which is also named the main problem facing them (47%).
Three quarters of Russian citizens are sure that they know the ultimate goal of the "operation." However, none of the previously stated goals received the majority of votes - the most often mentioned is "de-Nazification of Ukraine" (39%) and confrontation with the West (19%). Other goals secured less than 10% of the vote.
Russians believe that the "operation" practically failed to achieve its goal, and almost three quarters would support the move to end it as early as tomorrow. Accordingly, an important change compared to the December survey is a sharp decrease in support for an indefinite "special military operation" - from 48% to 12% - and a simultaneous increase in those who remain undecided – from 15% to 32%.
At the same time, the poll showed that the majority of Russian citizens, under certain conditions, would support a "special military operation" Russia against Kazakhstan or the Baltic states. Some 26% and 34%, respectively, believe that the conditions for launching military operations against these states already exist.
Also, 70% of Russians do not know who they would vote for if Vladimir Putin did not participate in the presidential election. The rest of the applicants are currently gaining no more than 5-6% of the vote.
The IKAR survey was conducted on January 10-26, 2023. A total of 1,600 respondents were interviewed.