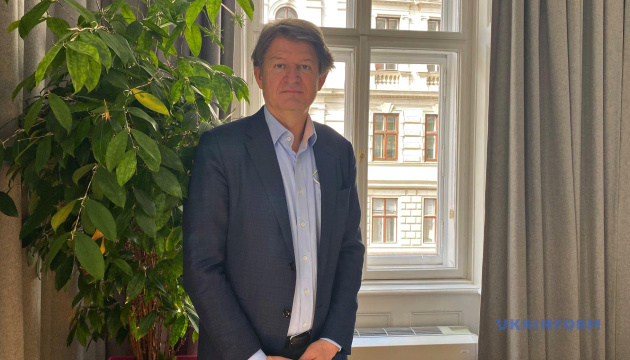 Austrian MP after visiting Kyiv, Kharkiv: Will of Ukrainians "unbreakable"
An inter-factional group of deputies with the National Council of Austria visited Ukraine on December 7-11, where they met with representatives of the country's parliament, government, and civil society, and also visited Kharkiv.
Chairman of the Ukraine-Austria parliamentary group Helmut Brandstaetter (liberal NEOS party) announced this on Facebook, Ukrinform reports.
In Kyiv, members of the National Council of Austria had meetings with the First Deputy Chairman of the Verkhovna Rada, Oleksandr Kornienko, and Deputy Prime Minister for European and Euro-Atlantic Integration Olha Stefanishyna. Together with Pharmacists Without Borders, the lawmakers handed over medicines to the Kyiv Regional Clinical Hospital.
"On the last day of our visit to Ukraine, we met with deputies of the Austria-Ukraine friendship parliamentary group... At this meeting, we agreed to expand cooperation between our parliaments in the fields of transport and infrastructure," Brandstaetter said.
According to him, a visit to the National Holodomor Genocide Museum in Kyiv was particularly important for the Austrian deputies. "During the excursion, we learned about the lives of people in the cruel conditions of the Holodomor, which was deliberately used by Stalin as a weapon. Unfortunately, I see sad parallels with Putin's war today," the deputy said, adding that "everything should be done so that history does not repeat itself."
According to him, the Austrian delegation had a meeting with a representative of the Center for Civil Liberties, an organization that "does incredibly important work documenting crimes against humanity."
In addition, Austrian deputies visited Kharkiv.
"We became the first delegation of parliamentarians to visit this city, which, despite fierce attacks, was not occupied by the Russian army, but which Putin still seeks to capture. Literally a day before our arrival, another missile attack was carried out. We also visited a school that was completely destroyed by a Russian missile," Brandstaetter said.
The deputies met with the leaders of the regional and municipal authorities and handed over medicines from the Austrian organization Pharmacists without Borders.
"The conclusion of our visit to eastern Ukraine: the will of Ukrainians is unbreakable," the deputy emphasized.
The delegation included representatives of all Austrian parliamentary parties, except for the right-wing populist Austrian Freedom Party.
As reported by Ukrinform, earlier the Minister of Foreign Affairs of Austria, Alexander Schallenberg, said Austria provided EUR 87 million in humanitarian aid to Ukrainians. At the same time, due to its neutral status, Austria refrains from sending Ukraine weapons and ammunition.
Charitable organization Caritas announced that it would deliver 100 electric generators to Ukraine to ensure the continuity of humanitarian aid. Before that, the Austrian Red Cross delivered 21 powerful generators to Lviv.