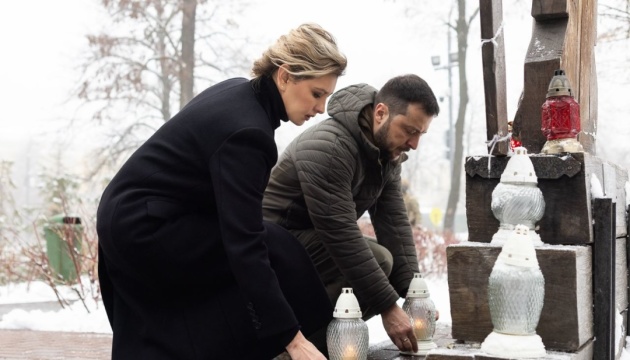 Presidential couple commemorates Heroes of Heavenly Hundred
President of Ukraine Volodymyr Zelensky and First Lady Olena Zelenska honored the memory of the Heroes of the Heavenly Hundred.
"You may have dignity without freedom. You may have freedom, but you may not be worthy of it. These are values that are best revealed together only. That is why today has a double name. Because Ukraine has both. And we do not let the enemy take them away from us," reads the post on the Telegram channel of the President.
It is stressed that "not only today – every day of ours is now defended and made by decent and free people."
"Let it remain so even after our victory. Congratulations on the Day of Dignity and Freedom. Our day," reads the post.
In addition, photos of the presidential couple placing lamps on the Alley of Heroes of the Heavenly Hundred in the center of Kyiv were published.
As reported, Ukraine marks Dignity and Freedom Day annually on November 21.
It was established in accordance with the Presidential Decree of November 13, 2014, to mark the beginning of two significant events in the contemporary Ukrainian history on this day – the Orange Revolution of 2004 and the Revolution of Dignity of 2013.
Photo: Zelenskiy / Official
ol