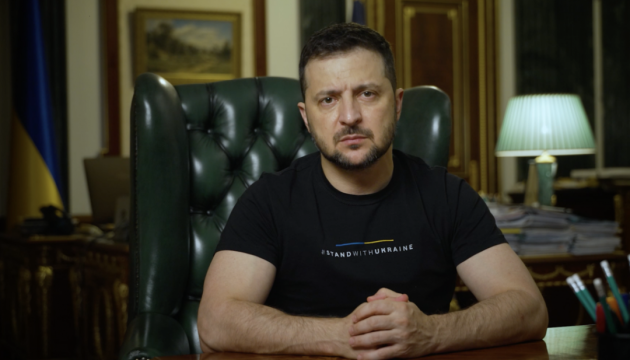 Ukrainian people have united to defend freedom, no one able to take it from them
The people of Ukraine have united and continue to pay a high price for their freedom, but no one will be able to take it from them.
That's according to President Volodymyr Zelensky of Ukraine, who spoke in an address to the nation on the Day of Dignity and Freedom.
"Everyone saw what defenders we have. How to hold out against one of the greatest armies in the world and become one of the best armies in the world. Someone will say: it sounds loud. Yes. Our army sounds loud. For the last eight years. And for the last nine months. When hardened fighters are joined by musicians, actors, Olympic champions, IT specialists, scientists, businessmen. Hundreds of thousands of Ukrainians who did not get on the plane, but stood in line at the military commissariat. And side by side they stood up for our dream. Free Ukraine forever," said Zelensky.
He added that everyone saw what Ukrainian civilians are capable of. "Everyone saw what kind of citizens we have! How can you become a living wall on the path of the occupier's military columns, stop and turn around enemy tanks and armored personnel carriers with bare hands. Go to rallies under the occupation despite the gunshots and stun grenades. Preserve the Ukrainian flag and wait to finally meet the Armed Forces of Ukraine. Flood your village to prevent the orcs from entering Kyiv. Shoot down a Russian drone with a can. Give seeds to the occupiers so that sunflowers sprout in the place where they perish," the president emphasized.
He added that "everyone saw what kind of doctors, firefighters, rescuers, railway workers, energy workers, and farmers we have."
They can be on duty for several weeks in a row. Pull dozens of wounded from the battlefield. Carry out surgeries under bombs and bullets. Sow a crop and gather it as a harvest under bombs and bullets. Give lectures to students online, in the trenches. Get a bachelor's degree online, in the trenches, according to Zelensky.
"Everyone saw what kind of volunteers and caring people we have. How can you raise funds for drones, ambulance vehicles, optics, thermal imagers in a matter of hours. How to get everything. Buy everything. Bring everything. And then get, buy and bring again, because that wasn't all. And in every village, people canned borscht and stewed meat for the frontline, because we would go red with embarrassment if our warriors ate expired dry ration, like orcs," the president noted.
Ukrainians are willing to give the last we have so that the Ukrainian warrior looks decently, fights with dignity and wins with dignity.
"And everyone saw what kind of business we have. Not oligarchs, but a modern, creative, humane and responsible business. How to turn your office, hotel or gym into a shelter for IDPs. How fashion shoe brands manufacture army boots. Designers of women's dresses manufacture body armor. A garden furniture manufacturer makes anti-tank hedgehogs. A famous model cooks food for warriors and refugees. A TV presenter makes a "Bandera smoothie". A doctor of science sorts humanitarian aid in Poland. And an opera singer evacuates hundreds of people in his car," the president stressed.
The head of state also noted that everyone saw "what kind of children we have."
"How they give up smartphones and gadgets to donate money to the army. How they wash cars and sell drawings, collecting money for the Armed Forces of Ukraine. How a boy runs away from home to enroll in the territorial defense. How a girl with shot legs drives a car 15 kilometers to take out four wounded adults. Everyone saw what kind of people we have! Willing to give the last. Willing to stand to the last. They did not lose dignity. Bravery. Faith in themselves. And they united. In order not to lose freedom. Not to lose independence. Not to lose Ukraine," the address reads.
Ukrainians can be left without money, gasoline, hot water, or light, but not without freedom. This remains unchanged, the president said.
"Yes, we have paid and continue to pay a very high price for freedom. And we will never forget all those who gave their lives for Ukraine. And we will never forgive everyone who took away their lives and wanted to take away our freedom. But the main thing is that no one succeeded and no one will ever succeed," said Zelensky.
Ukraine celebrates Day of Dignity and Freedom annually on November 21.
The holiday was declared by a Presidential Decree of November 13, 2014, in honor of the two significant events in recent Ukrainian history – the Orange Revolution of 2004 and the Revolution of Dignity of 2013.