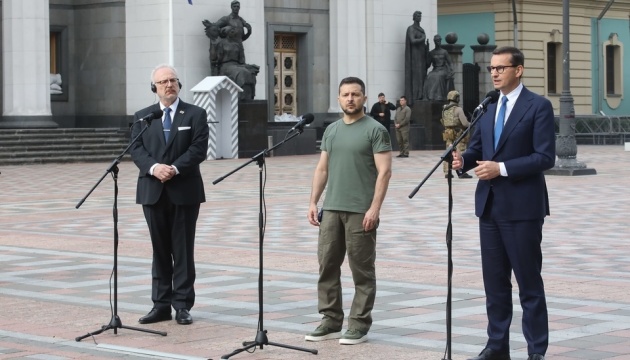 Zelensky reacts to criminal cases targeting volunteers
President Volodymyr Zelenskyi has assured journalists that, even amid the ongoing war, all citizens are equal before the law, and called to provide him with any information on unfair accusations of volunteers, if any.
The statement came during a joint press conference with President Egils Levits of Latvia and Prime Minister Mateusz Morawiecki of Poland as Zelensky was answering the question of an Ukrinform correspondent concerning the recent raids targeting acclaimed volunteers.
"Ukraine is a European democratic state, where every person must abide by the law, despite the ongoing war. It is critical for us that after the 24th (of February - ed.) our entire nation stands united, it is critical that we respect the work of both volunteers and law enforcers. … We are all united... Today there is respect for everyone who remained in the country and helped build a state, a strong one: our volunteers, law enforcement officers, soldiers, and taxi drivers who turned into (military - ed.) drivers," the head of state said.
He spoke about the latest NABU raid in Zaporizhia (where local officials are being accused of profiting off humanitarian aid - ed.), while noting he is yet to learn the details of the case.
After the press conference, the president asked the Ukrinform journalist to share with him more information about the raids targeting volunteers, if he has any.
"If you have additional cases of some sort of injustice – everyone knows my attitude and great respect for the efforts of the volunteer movement in Ukraine – pass it on, I can raise the issue," Zelensky said.
As reported, on the morning of September 8, the police raided the home of a Lviv-based volunteer and activist Svyatoslav Litynskyi, who has been supplying vehicles to the Ukrainian troops.
An acclaimed Lviv artist Oles Dzindra is also suspected of allegedly commercial imports of cars under the guise of humanitarian efforts. On August 30, a court in Lviv released volunteers Oles Dzindra and Yuriy Muzychuk on personal recognizance for one month.
On August 31, also in Lviv, law enforcers raided a firm run by volunteer Oleh Yanitsky over the allegations of humanitarian aid misappropriation.
In early June, the head of the Odesa-based "Monsters Corporation" Charity, Kateryna Nozhevnikova, said that the Security Service of Ukraine opened a case against her Fund.