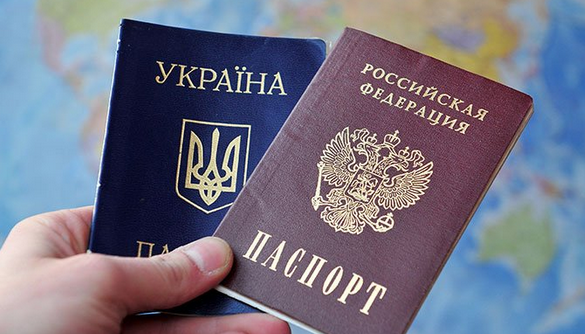 Campaign to issue Russian passports in occupied areas "failure" as world perceives holders as threat - Podolyak
Mass naturalization of Ukrainians living in the Russian-occupied areas is a failure for Russia because the world perceives holders of such IDs as a valid security threat.
That's according to Mykhailo Podolyak, advisor to the head of the Ukrainian President's Office, Ukrinform reports.
"Why are Russia's efforts to issue passports in the occupied Ukrainian territories completely unsuccessful? The reason is simple: the Russian passport is perceived in the world as the most toxic one. This is the label by which any civilized country determines a potential bearer of the 'Russian world' values, hence a reputational and security threat," Podolyak wrote on Telegram.
The advisor listed the "opportunities" that are available to Russian passport holders.
They will not be able to travel to the Netherlands, Norway, Belgium, Denmark, and a number of other countries. Such a person will have issues with obtaining visas and residence permits in many countries, too. Also, the holder of such a passport is likely to have their Schengen visa revoked at any border crossing for supporting aggression against Ukraine.
The holder of a Russian passport is suspended from international sports competitions – they can't represent their country, use the national colors, or stand on the podium to the sound of their national anthem.
The holder of a Russian passport gets their accounts blocked in foreign banks and sees difficulties in opening new ones. "From Armenia and Kazakhstan to Greece, France and Germany, every financial institution will think twice before opening an account for a Russian and putting their entire operations at risk due to possible sanctions," Podolyak added.
Large hotel chains refuse to book rooms for holders of Russian passports. No one wants to live or vacation next to Russians.
Increasingly, the owners of restaurants, beauty salons, clinics, and rental housing are declaring that Russians are not allowed to enter. Large law firms are unwilling to represent their interests.
People who have a Russian passport will not be able to shop in Europe. After all, luxury brands perfectly understand the risks of violating sanctions, which is why they do not sell their products to Russians, the advisor added.
According to Podolyak, a Russian passport is a one-way ticket, to where "freedom is slavery, and ignorance is power." The owner of such an ID has no rights, opportunities, or prospects.
As reported by Ukrinform, in the temporarily captured territories of Kherson and Zaporizhia regions, the Russian invaders are forcing Ukrainians to acquire Russian passports and switch to Russian legislation.