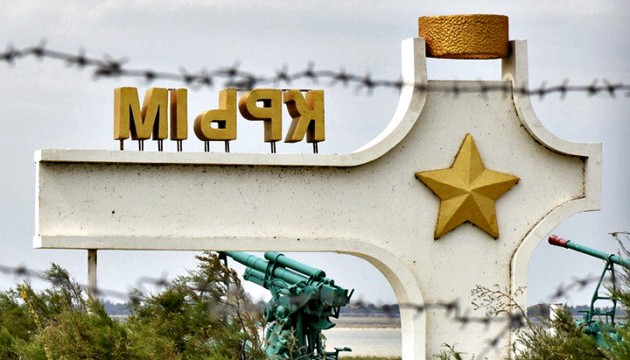 In occupied Crimea, locals starting to realize war could come to peninsula
Residents of the occupied Crimea are beginning to admit the reality of the war now raging in mainland Ukraine gradually making its way to the peninsula.
This was reported by Vadym Skibitskyi, a spokesman for the Main Intelligence Directorate of Ukraine's Defense Ministry, who spoke in an interview with RFE/RL's Crimea.Realities project, Ukrinform reports.
"It is gradually dawning on the Crimea population. We're actually monitoring the issues that relate to public moods. I'll say one thing: first of all, they have changed, those people who have relatives on the territory of our state, be it Kyiv or Kharkiv, or relatives in the occupied territories, where villages and cities have been simply wiped out, have changed, too. And also, it's those whose brothers, sons, or fathers were killed... The threat of the war moving onto the territory of Crimea is already becoming a reality for them," Skibitsky noted.
He also reported that the number of refusals to extend military contracts is increasing in Russian army units that suffered significant losses during the invasion of Ukraine. Since Russia does not admit that it is waging a war, there should be no legal repercussions for snubbing contracts.
As Ukrinform reported earlier, the Ukrainian President's Permanent Representative for the Autonomous Republic of Crimea, Tamila Tasheva, noted that Russia is running in the occupied Crimea a covert mobilization campaign, as well as recruiting as part of an illegal draft a number of Crimea-based students, planning to deploy them in the Ukraine warzones. In order to replenish reserves due to colossal casualties and carry out covert mobilization, Russia conceals real losses, buries the dead in secrecy across Crimea, and bans truthful war reporting. The representative office is already aware of 125 tombs where Russian army soldiers were buried across the peninsula, of which 62 are likely to be citizens of Ukraine.