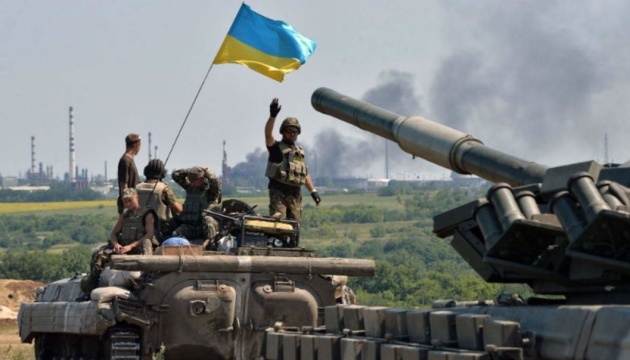 Two ammunition depots, dozens of Russian occupiers destroyed in southern Ukraine
In southern Ukraine, the situation remains tense but controlled by the Armed Forces of Ukraine. On July 30, 2022, the Ukrainian military eliminated 33 Russian invaders, destroyed their equipment, as well as two ammunition depots in Beryslav District.
The relevant statement was made by the South Operational Command, an Ukrinform correspondent reports.
In particular, the enemy's losses included two Msta-B howitzers, one Grad multiple launch rocket system (MLRS), one anti-tank missile system, and three armored and motor vehicles.
According to the South Operational Command, Russians continue to conduct hostilities within the captured frontiers, focusing on the counterbattery activity tactics and air strikes. In the afternoon, Russian occupiers opened fire on Velyka Kostromka with heavy cannon artillery, having launched about 20 rockets. No casualties among civilians were reported, but a detached house was destroyed in fire.
In the evening, Russian troops again shelled Mykolaiv, having hit an open area in the outskirts of the city and the river coastal line in one of microdistricts. No casualties were reported.
Over the past day, Russian helicopters have attacked the positions of the Ukrainian Army in Beryslav District and Bashtanka District nine times. No losses were reported.
Meanwhile, Ukraine's aviation effectively struck the enemy six times. A pair of Ukraine's attack aircrafts hit enemy strong points and equipment clusters in Beryslav District three times, and a pair of helicopters attacked Russian strong points in Kherson District and Mykolaiv District three more times. The Ukrainian rocket and artillery units were also involved in the elimination of Russian occupiers and their stocks.
In addition, Russian invaders rapidly expanded their naval group. The South Operational Command assumed Russian occupiers would like to show off their presence on their fleet day.
Fourteen enemy warships are maneuvering within the missile-safe areas along the Crimean shore in the direction of Anapa. Four missile ships and four landing crafts are remaining on duty. The threat of 32 Kalibr cruise missile strikes from the Black Sea is persisting.
mk