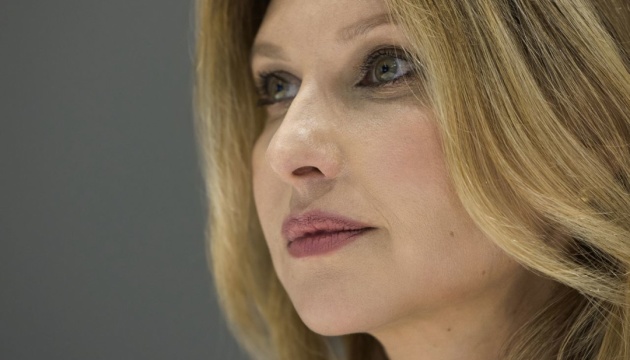 No place in Ukraine 100% safe - First Lady
There are currently no cities in Ukraine that could be considered fully safe so people live in constant tension.
That's according to Ukraine's First Lady Olena Zelenska, who spoke with Italy's Porta a Porta, Ukrinform reports.
"Currently, no place in Ukraine is 100% safe. Missiles fly over us, unfortunately, also hitting residential buildings," Zelenska stated.
The First Lady warned against believing claims that it is quiet and safe in all Ukrainian cities, except those near the frontline, debunking them as "cynical Russian propaganda." In fact, the first lady added, Ukrainian adults and their children go to bed every day, not knowing whether they will wake up tomorrow because a Russian missile can hit them at any time, as happened the other day in Odesa, Mykolaiv, and Kyiv.
The President's spouse was asked by journalists whether she is afraid of dying. "It seems to me that everyone has this (the fear of dying - ed.). I have always been afraid of people who are not afraid of dying. It's just wrong. It is against human nature. If you're not afraid of your own death, you're not afraid of other people's deaths either. It seems to me that this is the difference between us and the Russians. It's the fact that we suffer for each of our dead and value each life, while they throw their soldiers into this war without counting them. They don't value them. And although they outnumber us so much, our spirit is stronger, so we retain hope," said Zelenska.
She emphasized that the possibility of a Russian invasion had been discussed more than once, but until the last moment she could not believe that a neighboring nation could do such a thing to Ukrainians.
Zelenska added that after February 24, many colleagues and friends offered their help, including to move to their place, but she refused. "You know, sometimes being in the eye of a tornado is somewhat calmer than watching it from the outside. I guess I'm more relaxed here. And I've never regretted not going anywhere because I really would've been too restless. I feel calmer here," she said.
The First Lady emphasized that nowadays, it is very difficult for Ukrainians in a moral sense because every day, before going to bed or after waking up in the morning they read the news in order to understand where the missiles hit this time and what's the death toll.