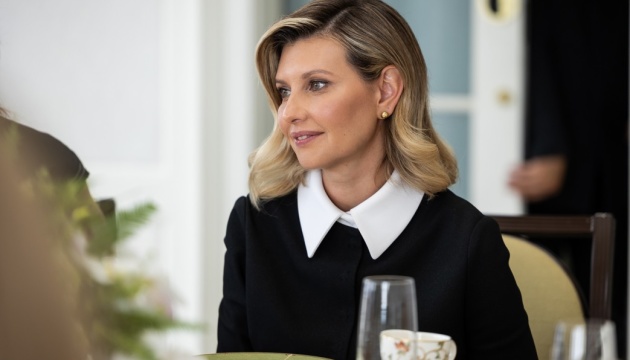 "Mariupol can happen anywhere at any time in any country" - Ukraine's First Lady
The tragedy of Mariupol can repeat itself in any country, Ukraine's First Lady Olena Zelenska believes.
She spoke of her reflections in an interview with The Economist, seen by Ukrinform.
"We thought that everyone was the same, that the decades of humanity in Europe were the values we all lived by. That turned out not to be the case. It's frightening to realize this thin enamel of civilization is not shared by people living alongside us, not shared by the monsters of Bucha." She goes on: "Mariupol can happen anywhere at any time in any country. Now I really think that anything is possible."
For now, every Ukrainian has to protect what they have, "to survive and live at any cost". Like Zelenska herself, many have already returned from havens elsewhere and are now daring to live something of a normal life. Yet "the idea that it's an ordinary summer is an illusion". War rages in the east. Atrocities unfold.
First Lady has told of the day when the news broke out of the full-scale Russian invasion, February 24.
It was still dark when Zelenska woke up, thinking that she'd heard fireworks. Her husband was already in the room next door, fully clothed. "It's started," he said, and immediately left. It was Zelenska's task to tell her nine-year-old son Kyrylo, and 17-year-old daughter Oleksandra, what was happening.
She told herself she mustn't cry as she walked down the corridor, quaking. But when she got to the kids' rooms she realized they were already awake and "knew everything."
The first lady says she survived the early days on a mix of adrenaline and Valerian before the latter ran out. She tried not to think about her husband being named as target number one for Russian hit squads – or about herself and her children being target number two. The "professionals" would do what was necessary to keep them all safe.
Since the war started, she has diverted her energies into evacuating vulnerable children and rolling out psychological support. Last year she convened a network of first ladies – now she mobilized this group to help arrange treatment abroad for hundreds of ill and injured children.
She still does not see her husband more than once or twice a week, she told the publication.