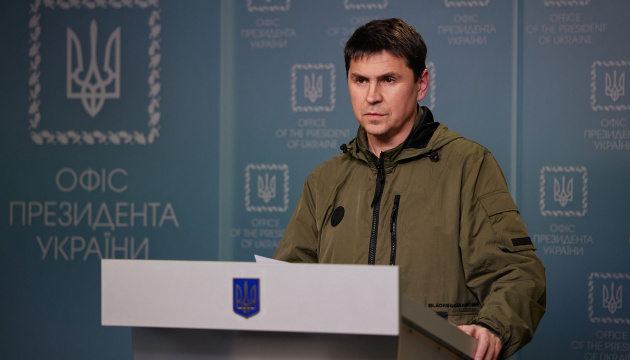 Senior advisor urges journalists to keep martial law in mind: Don't do generous favors to Russia
President Volodymyr Zelensky decided at the onset of the war that the government would not restrict journalists' work in any way and there is no hint of military censorship in Ukraine, but the media should be aware of their own responsibility for their reporting.
This was stated by Mykhailo Podoliak, an advisor to the head of the President's Office, Ukrinform reports.
"Regardless of specific media, particular strange texts and certain names… Freedom of speech is a fundamental value of Ukrainian society. No nuances heer. This, among other things, completely distinguishes us from the 'prison camp Russians.' Even in the fifth month of the war, there is no hint of total military censorship in Ukraine: journalists do not coordinate their reports with the government, opposition politicians criticize the authorities on social networks, certain media outlets cover the hostilities, sometimes reporting news even earlier than the General Staff," he wrote.
The adviser to the head of the President's Ofice stressed that this does not always help to fight the war, sometimes creating conflict situations, but, the official added, everything related to the keeping media space open is a conscious decision by the President: the work of journalists must not be restricted.
At the same time, Podoliak stressed, it is worth keeping in mind that great freedom implies great responsibility.
"Journalists can and have the right to draw the attention of the authorities to system bugs to provoke a reaction and change – a noble mission in the country's 'ecosystem .' But when the bug has already been detected and fixed (and someone who had been constantly exploiting this bug has been procedurally released), the expediency of journalistic provocation raises doubts, to say the least. Why? For what? Hasn't the system already responded and fixed the bug?" said Podoliak.
He stressed that the Ukrainians live amid an information war, while the whole enemy propaganda machine is working to undermine confidence in Ukraine, especially in the foreign arena. "Should we do them a generous favor? Have all the risks of such actions been calculated? And again, the key question is: why such a publication after the issue has been fixed?" remarked the adviser to the head of President's Office.
He added that the government has no right to and will not interfere in journalists' work.
"But journalists must effectively self-regulate their work and do so within the shop. Because it's war. And there are huge risks. Hard times, great responsibility," the adviser summarized.
As reported, Deputy Minister of Defense of Ukraine Hanna Maliar stated that any unauthorized public display of the operations carried out by the Armed Forces of Ukraine disrupts such efforts.