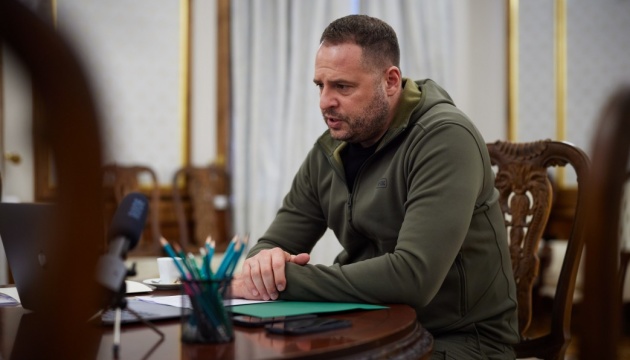 Effort to return captured defenders of Mariupol doesn't stop for an hour - Yermak
The issue of the return of captured defenders of Mariupol is being handled by the Main Intelligence Directorate of Ukraine's Defense Ministry.
That's according to the head of the President's Office, Andriy Yermak, who spoke in an interview with LB.ua, Ukrinform reports.
"It is a difficult issue, and we're working on it. This is the main task today, including for the GUR (military intelligence - ed.) We know that they are alive. As for the conditions, the issue is also being monitored. We cannot say exactly what conditions they are held in. But we know for sure they are alive. The GUR is constantly monitoring this, there's a contact with some of them, and the process of their release doesn't stop for an hour," Yermak said.
The head of the President's Office expressed hope that now the process of returning the captured Azovstal defenders will enter an active phase.
As Ukrinform reported, on June 6, President Volodymyr Zelensky said that more than 2,500 Ukrainian servicemen from the Azovstal plant were being held captive.
The Ukrainian military held the defense of Mariupol for more than 80 days. On May 16, the evacuation of Ukrainian defenders from the Azovstal plant, blocked by Russian invaders, began. The effort lasted for several days.
After the withdrawal of the Ukrainian military from Azovstal, according to the agreements reached, they are awaiting a POW exchange.
The Center for Strategic Communications informed that Russia is planning to hold trials of the Azov fighters as the last chord in "denazification" of Ukraine, announced by the Kremlin as one of the main goals of their ongoing military campaign.