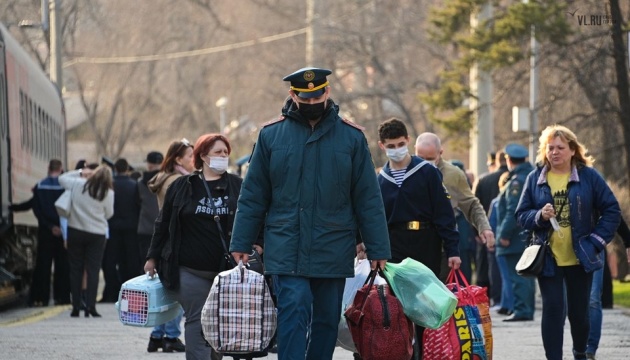 Invaders deport 308 Mariupol residents to Russia's Far East
The Russian occupiers have deported 308 residents of besieged Mariupol to Russia's Far East.
That's according to the Mariupol City Council, Ukrinform reports.
"The new master plan 'Ost,' now being performed by the Russcists. In fact, the territory of Mariupol is being cleared of its people. They need the territory for the corridor to Crimea, but they don't need people there. At first, the Russians almost wiped out the city and then, due to international pressure, half of the population was released toward Zaporizhia. Everyone else is being deported to the most depressed areas of Russia," the statement said.
A scan was published of the Russian newspaper page saying 308 Mariupol residents had arrived by train in the town of Nakhodka, Primorsky Area.
In turn, the adviser of the Mariupol mayor Petro Andryushchenko in the Telegram published a number of photos from a scene where Mariupol residents are seen getting off the train.
Russia's aggression has caused one of the biggest humanitarian catastrophes in Mariupol. The invaders have been bombing unarmed residents and blocking humanitarian aid.
The mayor of Mariupol has previously stated that up to 20,000 civilians have been killed since the start of the full-scale invasion. According to the Main Intelligence Directorate of the Ministry of Defense, 13 Russian mobile crematoria have been deployed in Mariupol to get the bodies of killed civilians off the streets. The invaders are also trying to identify and eliminate all potential witnesses to their atrocities.
About 120,000 civilians remain in besieged Mariupol.
The invaders seize Ukrainian passports from Mariupol residents whom they forcibly extract to Russia and the occupied Donbas.