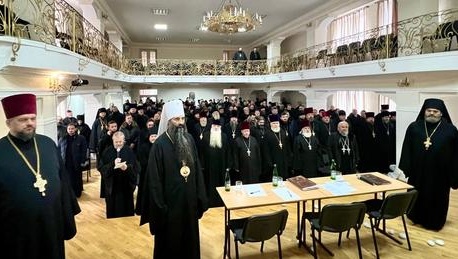 One of Moscow Patriarchate's eparchies in Ukraine seeks to sever ties with Russian church
The clergy of the Vinnytsia Eparchy of the Ukrainian Orthodox Church (Moscow Patriarchate) has condemned Russia's war against Ukraine and raised the issue of independence from the Russian Orthodox Church.
The priests appealed to the Metropolitan Varsonofiy of Vinnytsia and Bar to initiate a Council of Bishops once the war ends to consider the said issue, Ukrinform reports with reference to the eparchy's press service.
"We condemn Russia's treacherous invasion of the territory of independent Ukraine and the unleashing of war against the Ukrainian people, and call for an end to hostilities as soon as possible. No political motives or justifications of the invasion, offered by Russia, no matter how nice they may sound, are worth a single drop of blood that's been shed," the address reads.
Noting "with great pain and disappointment" the fact that the head of the Russian Orthodox Church, Patriarch Cyril, and some speakers of the Moscow Patriarchate, in agreement with the Russian political leadership, instead of condemning the invasion of Ukraine, repeatedly tried to justify the actions of Russian troops, the clergy raise the issue of full independence and self-regulation of their church, while maintaining canonicity and Eucharistic communion with all local Orthodox churches.
"In view of all the above, we ask Your Eminence to convey our request to the Primate of the Ukrainian Orthodox Church His Beatitude Metropolitan Onufriy to convene the Council of Bishops of our Church after the end of hostilities in Ukraine," the address concludes.
As reported, MP Oksana Savchuk tabled in Ukraine's Parliament a bill "On the prohibition of the Moscow Patriarchate in Ukraine."
After Russia launched a full-scale invasion of Ukraine, some priests of the Ukrainian Orthodox Church (MP) stopped commemorating Moscow's Patriarch Cyril during services.
Photo: eparhia.vinnica.ua