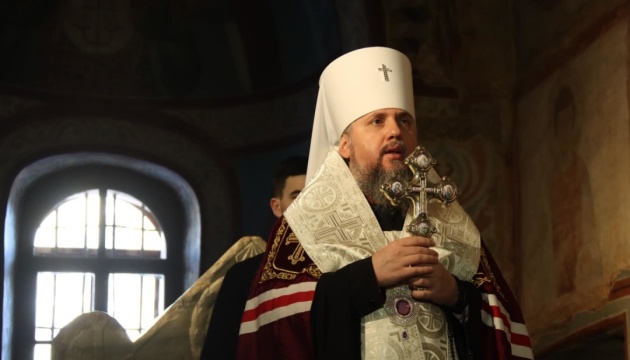 Dozens of parishes leaving Moscow Patriarchate, joining Orthodox Church of Ukraine - Epifaniy
The head of the Orthodox Church of Ukraine, Metropolitan Epifaniy, says dozens of parishes and a number of monasteries have already joined the OCU, having quit the Moscow Patriarchate.
The OCU Primate announced this on Twitter, according to Ukrinform.
"Dozens of communities, a number of monasteries in different regions of Ukraine have already voluntarily and consciously fulfilled their canonical duty and followed the Tomos of autocephaly, choosing the church and Ukraine," Epifaniy said.
The top cleric has added that the OCU doors are open to everyone.
At the same time, the Orthodox Church of Ukraine announced on Facebook that within a month of full-scale Russian aggression, 28 communities have officially switched from the Moscow Patriarchate to the Orthodox Church of Ukraine.
These are the parishes in Lviv, Ivano-Frankivsk, Khmelnytsky, Zakarpattia, Ternopil, Rivne, Volyn, Kyiv, and Cherkasy regions. Among them are the communities of two monasteries located in Lviv region.
"We embrace our brothers and sisters with love in the family of the local Ukrainian Orthodox Church. We are convinced that this is just the beginning, and many clergy and faithful will 'open their eyes,' including those who are still being deceived, remaining under Moscow's rule, having as their patriarch someone who now blesses Russian soldiers for Cain's war," the OCU stressed.
The OCU also noted that "it is time to make a choice – with conscience and heart – are you on the side of the aggressor, the ruthless murderer of civilians, or on the side of your Homeland, its people, and its church?"
"Don't be accomplices of the 'Russian world', Russia's silent allies. Act in a Christian way, on your God-given land, be with your people, pray for our defenders. Allow no delay, break away from the pernicious slavery of the patriarchate, which is already tainted with innocent human blood. Be worthy and free children of your native land and rally around the local Ukrainian church! The doors of our church are always open to everyone," the OCU said.
For those communities that have decided to sever all relations with the MP and join the local Orthodox Church of Ukraine, the Holy Synod adopted a decision "On the emergency procedure for admission to the Orthodox Church of Ukraine" (Resolution No.25).
As Ukrinform reported, on March 22, the Synod of the Orthodox Church of Ukraine called on the clergy and religious communities under the jurisdiction of the Moscow Patriarchate to come into canonical unity with the OCU.
On February 24, Russian President Vladimir Putin launched a new phase of Russia's war against Ukraine. The Ukrainian Army, territorial defense units, and the entire nation have risen up against the invaders, inflicting significant losses on the Russian forces.