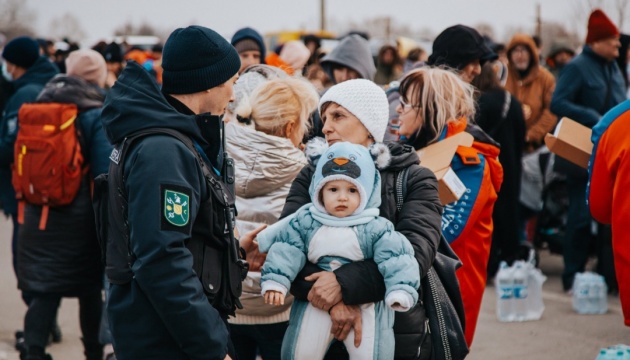 Over $10B pledged as part Stand Up for Ukraine event to support refugees
Stand Up for Ukraine united activists, world leaders, and more to support Ukraine and all refugees.
The Stand Up for Ukraine pledging event in Warsaw, Poland, on April 9 announced $10.1 billion (EUR 9.1 billion) in new cash grants and loans to support those who had to flee their homes in Ukraine, according to the event's host, Global Citizen.
The $4.6 billion (EUR 4.1 billion) in grants and $5.5 billion (EUR 5 billion) in loans will support refugee efforts in Ukraine in providing accommodation and economic security, as well as support for grassroots organizations and UN agencies working with refugees and internally displaced people.
The pledging event, hosted by Global Citizen in partnership with European Commission President Ursula von der Leyen and Canadian Prime Minister Justin Trudeau, with the participation of Andrzej Duda, President of Poland, followed the Stand Up For Ukraine global social media rally on April 8, in which activists, advocates, artists, entertainers, and more called on world leaders to pledge their support for those forcibly displaced in Ukraine and globally.
As the Russian invasion of Ukraine intensified, President Zelensky in a video message a month ago called on people worldwide to lend their support to the people of Ukraine. Over the next few weeks, Zelensky shared more messages, describing the devastating humanitarian situation and the surging number of refugees fleeing the country. Throughout, he urged people to call on world leaders for immediate aid. These messages arrived amid a much broader campaign for international assistance, but they underscored the role that ordinary people can play in championing human rights and advocating for peace.
The momentum generated by this and other efforts led to von der Leyen and Trudeau announcing the Stand Up for Ukraine pledging event alongside Global Citizen's April 8 social media rally.
The Stand Up for Ukraine event saw a combination of pledges, including funds to Ukrainian authorities, UN agencies, grassroot organizations, and refugee resettlement costs, as well as a number of loans and guarantees. Some commitments related to refugee resettlement include funds EU member states have allocated to welcome refugees and provide accommodation, economic opportunities, access to health care, and education. Their implementation and the final amount of funds spent will depend on the amount of refugees being resettled in their respective countries.