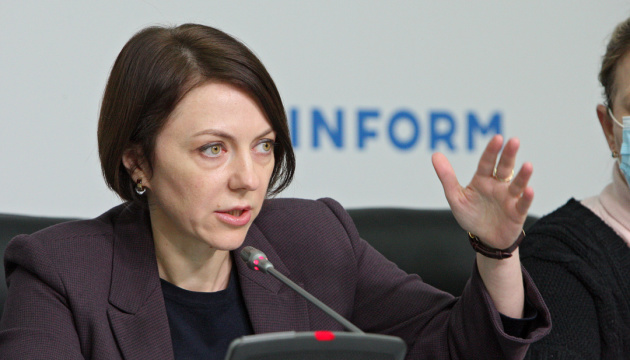 Russians trying to break us psychologically but it's we who succeed in breaking them - Ukraine official
The Russians are trying to break us psychologically, but Ukrainians are trying to break them, too, and it's they who succeeded.
That's according to Deputy Minister of Defense of Ukraine Hanna Maliar, who spoke at the national telethon, Ukrinform reports.
"Russians are trying to exert psychological pressure on us, on our society, they are trying to confuse us, sow panic (by shelling peaceful regions, including Poltava - ed.), to make people scared so that we can't resist. That's because we have total resistance in place – it's not only the Armed Forces, it is actually the entire population of Ukraine, and to break us psychologically is an extremely important endeavor. We are also working to break them psychologically. And it's we who succeeded. For example, we managed to confuse their soldiers, their mothers and wives, whose husbands and sons may die here. Therefore, both sides are working to put psychological pressure. That's how they press," said Maliar
The deputy minister added that the Ukrainian side, unlike the Russcists, treats the bodies of Russian KIAs humanely and encourages the Russian side to take these bodies to Russia.
"This is their peculiar feature. They really don't take away the bodies. They don't treat their wounded much. But as for the KIAs, there are already more than 19,000 of them. Ukrainians are civilized and humane, we treat their dead very humanely. According to international law, we collect them where it is physically possible, register them, and do the inventories. They are stored in refrigerators, and our side is constantly trying to encourage them to take them away," said Maliar.
As reported by Ukrinform, Ukrainian intelligence and the SBU regularly intercept Russian soldiers' phone calls to their families, in which they complain about the death toll, as well as treatment by their commanders.