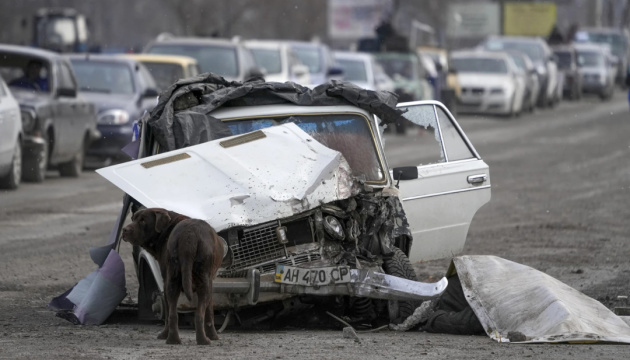 War with Russia: More than 15,000 people already missing in Ukraine
The Ombudsperson's Office has confirmed that over 15,000 Ukrainians have gone missing since Russia launched a full-scale invasion of Ukraine.
The Commissioner for Human Rights of the Verkhovna Rada, Liudmyla Denisova, stated this on the air of Espreso TV, an Ukrinform correspondent reports.
"As for the missing persons, we have counted more than 15,000 such cases. We record them as citizens turn to us, and we clearly know who those people are, what's their DOB, and where they went missing," Denisova said.
Separately, she noted that it is currently difficult to specify the data on the total number of those killed by Russian invaders, as well as the number of rape cases.
According to the ombudsperson, raping women, children, adolescents, boys, and the elderly is a separate weapon in Russia's arsenal used against the Ukrainian people.
"They are doing this deliberately and they seek to hurt our girls so bad that they will never be close with any other man, that is, they want Ukrainian children not to be conceived at all," Denisova said.
The Ombudsperson's Office has documented multiple cases where women and girls who have been raped and got pregnant approached its officials, asking them what to do next and how to live on with their lives.
"We currently have a psychological support group working at the Office, and we have a hotline on our website. Our psychologists and psychoanalysts are overwhelmed by such cases, and most likely they also need psychological support now, because (it is difficult - ed.) to endure hearing all these stories that they are told and to support these people," Denisova said.
Separately, she recalled that, as of Saturday morning, data was available on 176 children killed during the Russian invasion of Ukraine. Seven children were killed over the past 24 hours.
Speaking about the Russian crimes committed in Ukraine in general, Denisova noted that it is difficult to fathom the scale of these crimes in general.
"Currently, the cities of Kyiv region are being liberated, and we see Bucha, Borodyanka, Makariv, and then Trostianets in Sumy region, and others - but do you understand how much more Russian crimes we and the rest of the world will discover when Mariupol is finally liberated?" said the Ukrainian ombudsperson.
Denisova informed that eyewitnesses called the Commissioner's hotline and reported that a cleansing was taking place in Mariupol – that the Russians had deployed mobile crematoria. According to Denisova, the Russians are collecting the bodies of slain Ukrainians in Mariupol and then burning them in those crematoria.
Witnesses add that in the left-bank district of Mariupol, this sweep is almost complete.
"So what are these Russcists doing now? (They are taking certain actions - ed.) to destroy the bodies of our citizens so that there is no evidence of their crimes. Because they saw how the world reacted to their atrocities, which we saw in Bucha and in all other cities," the Ukrainian ombudsperson emphasized.
As reported, Denisova said that doctors in Lviv had rescued Artem, 2, and Ivan, 13, from Mariupol, who had survived enemy shelling.