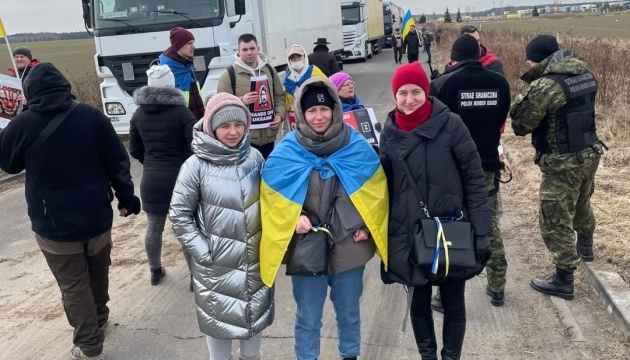 Activists blocking trucks on Poland–Belarus border, queue stretches for tens of kilometres
For the second day in a row, Ukrainian and Polish activists have been blocking the movement of Russian and Belarusian trucks on Poland–Belarus border through the Kukuryki-Kazlovičy checkpoint, demanding a de facto cessation of overland trade between the EU and Russia.
"Over the past day, not a single truck bound for Russia has crossed the border. Nothing is moving towards Russia," Natalka Panchenko, Ukrainian activist, leader of the Warsaw Euromaidan, announced on Facebook, Ukrinform reports.
She calls on Ukrainians in Poland to come to the border to strengthen it and replace the activists who have been there for a long time.
The activist underscores that now it is necessary to block all trade with Russia.
"We can do it, because we are doing it for the third time and we succeed. We just need caring people. If we go out on the road and stand in front of trucks, they don't move anywhere," Panchenko said.
As the activist noted, there should be many people on Poland–Belarus border until the EU officially decides to block overland trade with Russia.
Ukrainian activist and journalist Yevhen Klimakin wrote on Facebook that the queue of trucks from Russia, Belarus, and other countries stretched for tens of kilometers.
Russian trucks will soon disappear from the border following the EU's approval of the fifth round of sanctions against Russia, he added.
Ukrainian activists block the movement of Russian and Belarusian trucks on Poland–Belarus border already for the third time. They also blocked the movement of trucks on Poland–Germany border.
Russia's large-scale invasion of Ukraine has been going on since February 24. The aggressor shells and destroys key infrastructure facilities, residential areas of Ukrainian cities, towns, and villages.
ol