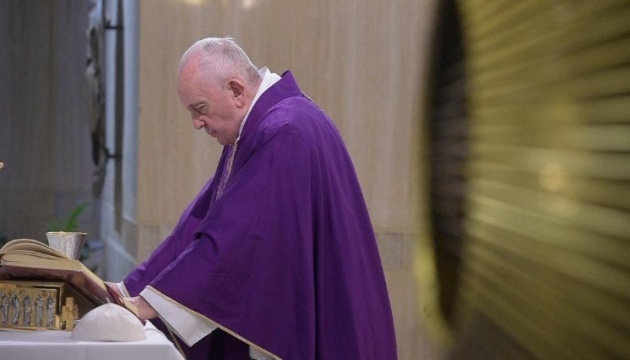 Pope Francis unfurls Ukrainian flag delivered from Bucha
At the Wednesday General Audience, Pope Francis unfurled a Ukrainian flag delivered from the town Bucha and urged to pray for the innocent victims and an end to the war in Ukraine.
"Ever more horrendous cruelties [are occurring], even against civilians, women, and helpless children. They are victims whose innocent blood cries out to heaven and implores. 'May this war cease! May weapons fall silent. Stop sowing death and destruction'," Pope Francis said at the Wednesday General Audience and invited everyone to pray in silence for a moment to ask God for this intention, Vatican News informs.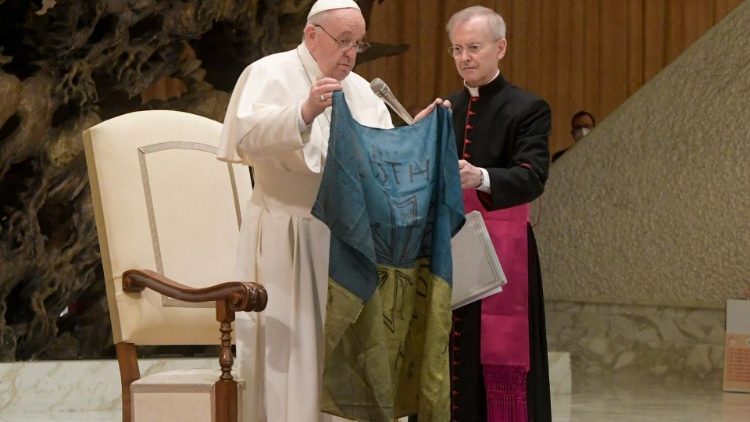 The Pope also unfurled the faded and war-stained flag delivered from the town of Bucha.
"This flag came from war, from that martyred city of Bucha. And there are also several Ukrainian children who are now here with us. Let us greet them and pray for them together," the Pope added.
To the sincere applause, a group of children from Ukraine came up on the stage, standing next to Pope Francis. The Pope kissed the flag and said: "These children had to flee, and have come to a strange land. This is one of the fruits of war. Let us not forget them, and let us not forget the Ukrainian people."
As reported, Irpin, Bucha, Hostomel and the entire Kyiv region were liberated from Russian invaders. Mass killings of civilians by Russians were recorded in the liberated towns and villages. In particular, a mass grave with almost 300 people buried was found in Bucha, liberated from the invaders. Dozens of dead bodies lay on the streets, some of them with their hands tied.
Photo: ANSA
ol