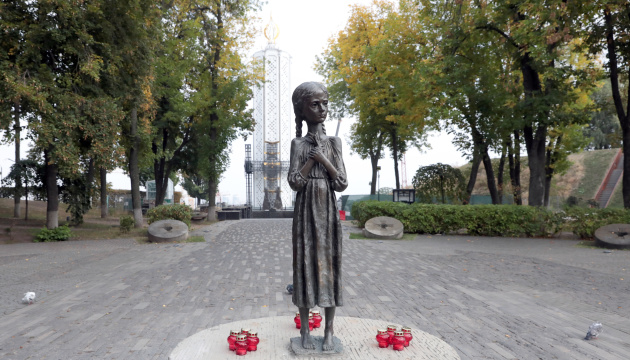 In Chernihiv region, Russians destroy archived documents on Soviet repression against Ukrainians
Russian invaders destroyed the archives of the Security Service in Chernihiv region, where documents had been stored on Soviet repression of Ukrainians.
That's according to the Ministry of Justice, referring to the head of the State Archival Service, Anatoliy Khromov.
"Currently, it is confirmed that at least one archive was destroyed in Chernihiv region. The SBU archival department was burned to the ground. There were documents there concerning the Soviet repression targeting Ukrainians," Khromov said.
In addition, according to the official, at least several other archives were damaged, in particular in Kharkiv, but so far the documents have survived the strikes.
"But we don't know what is happening to some departments of district state administrations in the temporarily occupied territories. Unfortunately, there is no information about the condition of those buildings, as well as the fate of the archivists who remained there," said the official.
He stressed that the real situation of archival documents will be known after these territories are liberated and the audit is run.
Khromov said that the looting of Ukrainian archival documents is a traditional move on the part of the aggressive Russia, as it was the case in Soviet times and after the capture of Crimea and parts of Donetsk and Luhansk regions. He stressed that the Russian archive operator, Rosarkhiv, is part of the propaganda machine of the aggressor power.
"From the first day of war, we started working to ensure that sanctions were applied to Rosarchiv. The State Archival Service of Ukraine has filed a corresponding appeal with the International Council on Archives. Many of our colleagues supported the appeal, especially the archival institutions of the Baltic States, Western Europe, America, Canada, etc., "said the head of the State Archival Service.
He added that an extraordinary meeting of the Executive Council of the International Council on Archives was held on March 10. It was decided to suspend relations between the Council and all archival institutions of Russia and Belarus, which are members of the organization. The latter will also not be allowed to take part in events and conferences.
"Politically, this means complete isolation, in practice – further blocking of any projects that could support the development of archives in Russia and Belarus, such as digitization of documents, logistics, etc.," said Khromov.
As reported, according to Ukrainian intelligence, the invaders in parts of Luhansk, Donetsk, Chernihiv, and Sumy regions, temporarily occupied by Russian troops, started seizing from locals Ukrainian historical and fiction literature, which is not in line with the postulates of Kremlin propaganda.