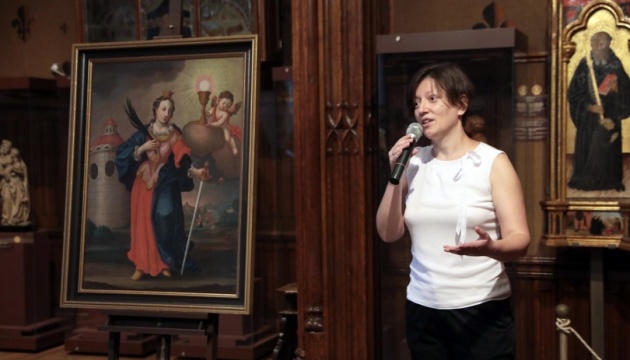 Ministry of Culture and Information Policy calls for recording crimes against cultural heritage committed by invaders on Ukrainian territory
The enemy has been targeting peaceful Ukrainian cities and destroying cultural heritage since February 24.
In different regions of our country, Russian aggression has been accompanied by heavy artillery vehicle movements, airstrikes, rocket attacks, and artillery bombardments. Many architectural monuments have been damaged and some of them have been completely destroyed, including museums, libraries, university buildings, and other cultural and educational institutions. Sacred architecture has also been ruined. It's hard to estimate the whole scale of destruction of objects of cultural heritage for now, especially on the front line and in the occupied territories.
The Ministry of Culture and Information Policy of Ukraine keeps in touch with cultural institutions constantly (which report directly to the Ministry and not only to it), as much as it's possible in current circumstances, as the realization of plans depends directly on the local management. The issue of saving museum valuables and the plans in case of an emergency state were discussed before the Russian invasion, but the real map of military actions made some changes.
"Government agencies, public communities, and experts put all their efforts into the protection of people and saving the cultural heritage of Ukraine. For instance, Odesa and Lviv work on the arrangement of physical covers for cultural objects in the city. Across the country, museum experts are doing everything to save the collections. Despite this, we ask journalists and activists not to share information about current protection measures imposed by museums and local residents, the location of these goods, and the places for their relocation during the war. Publishing or sending such data to unknown individuals and unchecked organizations might endanger people as well as museum exhibits," Kateryna Chuhuieva, Deputy Minister of Culture and Information Policy of Ukraine, said at a briefing on March 17.
Ukraine receives huge support from museum colleagues and cultural heritage defenders from all over the world. Besides, leading organizations, including international ones, offered their help. Among those are UNESCO, the International Committee of the Blue Shield, the International Council of Museums, the International Council on Monuments and Sites, the International Council on Archives, the International Council of Libraries, charity foundations, separate museum-institutions, and others. This support is expressed in different ways including museum reports and flash mobs, as well as financial and management assistance, internship and scholarship offers for personnel.
"The negotiations about the strengthening of security measures for cultural heritage, financial aid, and other kinds of support are taking place in immediate and midterm perspective," Chuhuieva said.
Ukrainian public initiatives play an extremely important role in cultural heritage protection in the wartime as well as support the specialists that are in a difficult situation because of hostilities or occupation. Among them are Heritage Emergency Response Initiative, whose members are a part of the dedicated working group in the Ministry of Culture and Information Policy of Ukraine, Museum Crisis Centre, Ukrainian Emergency Art Fund.
She also recalled that the Ministry of Culture and Information Policy announced a collection of data about the damages and destructions of cultural heritage objects committed by Russian military troops in Ukraine. We ask the witnesses of the crimes from all regions all over Ukraine to send photo and video evidence via the following link: https://culturecrimes.mkip.gov.ua/. The data that is available for open usage will be published on the portal. These materials can be also used as proof for criminal proceedings against those who are involved in crimes that violate Ukrainian as well as international legislation.