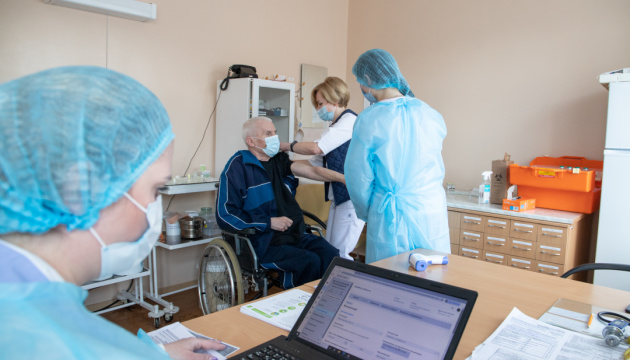 Over 59,000 Ukrainians get coronavirus jabs on Feb 14
For the past 24 hours, 59,170 people were vaccinated for COVID-19 across Ukraine.
That's according to the Ministry of Health, Ukrinform reports referring to the ministry's Facebook post.
"As of February 14, another 59,170 people in Ukraine were vaccinated against COVID-19. The first dose was administered to 17,244 people, the second – to 27,362, the additional one – to 457, while 14,107 received their booster jab," the statement said.
The Ministry of Health added that since the launch of the inoculation campaign, 15,594,938 people have been vaccinated, of which 15,594,936 have received the first dose, 14,985,576 – two doses, 24,205 – an additional dose, and 581,349 – a booster shot. A total of 31,186,066 jabs have been administered.
As Ukrinform reported earlier, 29,724 new COVID-19 cases were confirmed in Ukraine on February 14.
im