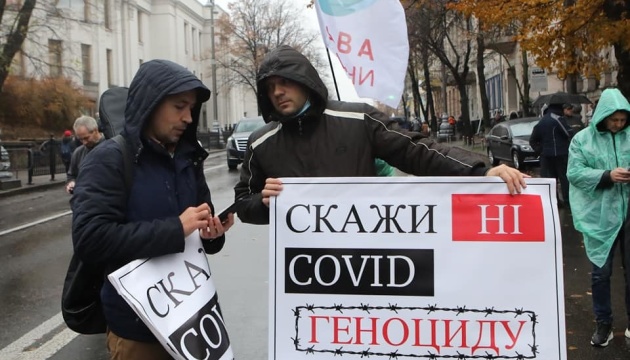 Antivaxxers in Ukraine, Moldova broadcast Russian narratives – U.S. Embassy
The participants in the Kyiv rally protesting mass vaccination against COVID-19 and holding the same posters as in Moldova's Chisinau, don't defend the interests of Ukraine and the Ukrainian people, while the messages they circulate are in line with the Russian narratives.
That's according to Daniel Langenkamp, Press Attaché of the U.S. Embassy in Ukraine, who spoke with journalists on Thursday, November 4, an Ukrinform correspondent reports.
Commenting on yesterday's rally of antivaxxers downtown Kyiv, he drew attention to the fact that "an identical anti-vaccination protest by the same organization using the same posters was held in Chișinău yesterday."
In addition, the spokesman for the U.S. Embassy noted, ​​this group of inoculation critics has spread anti-vaccination messages across social media in Ukraine, Moldova, and the Baltic countries.
The spokesman said "credible information" available to the diplomats points to the fact that the group members "have also spread other messages highly-consistent with Russian disinformation narratives – including that Russia and Ukraine are one nation."
Some protesters also admitted to receiving funds for protests from Russia-based private individuals.
While firmly believing in freedom of speech and freedom of assembly, the embassy is convinced that the group in question "does not have the interests of the Ukrainian people in mind."
Daniel Langenkamp has expressed hope that Ukrainians "see this group for who they are."
Citing research, the diplomat said vaccination "is the best way to protect yourself and your family and the best way for Ukraine to overcome the COVID pandemic."
Tha fact that 97% of the people in hospitals are unvaccinated speaks for itself," he said, assuring that the United States will continue to help Ukraine in this difficult situation.
As Ukrinform reported earlier, an anti-vaccination rally took place outside the Verkhovna Rada on November 3.
The protesters demanded that the government lift quarantine restrictions and recall a vaccination mandate for certain categories, all to "protect humanity" from "chipping" and "save the children."
Ukrainian journalists have also pointed to the fact that in both Ukraine and Moldova, antivaxxers took to the streets carrying posters of identical design.
im