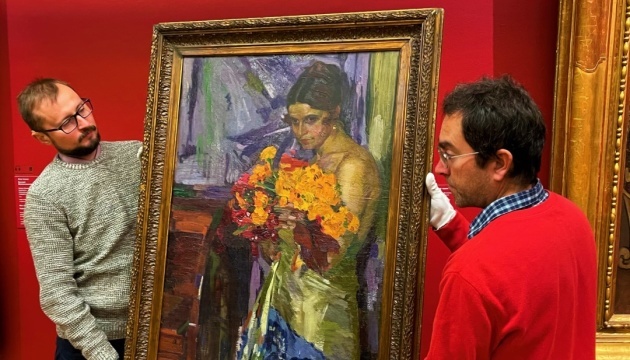 Works of Ukrainian artists could be purchased in NFT version
The National Art Museum of Ukraine has announced the release of an exclusive NFT collection in cooperation with Estonia-based startup STAMPSDAQ.
The museum's press service has revealed to Ukrinform the details of the joint effort.
"Art experts, designers, and programmers have joined efforts to present to Ukrainian audiences a unique digital NFT collection of Ukrainian art. All willing to purchase NFT-versions of artworks by Oleksandr Murashko, Oleksandra Ekster, or Mykola Pymonenko will be able to do so after the official launch of the STAMPSDAQ marketplace in early 2022," the report says.
It is noted that museums nowadays are in the search of new approaches and never shy away from various experiments to motivate TikTokers to visit exhibits. Moreover, amid the COVID-19 pandemic, reaching out to audiences has become an even greater challenge for museums.
At the same time, the statement adds, new technology allows culture to remain an important part of people's lives so, thanks to blockchain, almost anyone is able to gain ownership rights for digital objects, including works of art.
Thanks to STAMPSDAQ, the NAMU collection will become closer to wider audiences, the report notes. "Very soon NAMU, in collaboration with STAMPSDAQ, will release exclusive NFT tokens of the best examples of Ukrainian art. The museum will receive 10% of royalties off each token's price.
NFTs of works by Oleksandr Murashko, Oleksandra Ekster, Mykola Pymonenko, Vsevolod Maksymovych and others will be available at the STAMPSDAQ trading platform in 2022. Each digital version will be available in five tiers of rarity: common, rare, super rare, ultra rare, and unique. The designers are currently working on animation elements for NFTs.
"Modern technologies remove borders. They help classical art break down the walls of tradition. Collaboration between NAMU and STAMPSDAQ is valuable for the museum. Thanks to it, our museum will become much closer to the people around the globe," emphasized Yulia Lytvynets, NAMU Director General.
After the official launch of the STAMPSDAQ marketplace, its blockchain ecosystem will allow the purchase of NFT art and authorized NFT versions of post stamps. In such a way, the startup aims to not only increase interest towards classical art, but also develop world philately in NFT format.
In early December, STAMPSDAQ plans to launch a crowdfunding campaign. Special release of exclusive NFT tokens for early supporters and NFT collectors is going to be organized on Binance NFT Marketplace.
Memo
NAMU is Kyiv's oldest museum, opened in 1899. It owns a unique collection of Ukrainian paintings, graphic images, sculpture, and icons, some of which date back to the Kyiv Rus era. Museum funds contain more than 40,000 items.
STAMPSDAQ is an Estonian start-up focused on building a blockchain marketplace for crypto philately and crypto art. Its main goal is to digitize and allow anyone to buy authorized stamps and art pieces as NFT assets. STAMPSDAQ is the official partner of Cote-d'Ivoire postal administration and the associate member of Dot Post Group (DPG), which is the structural subdivision of the Universal Postal Union.
im