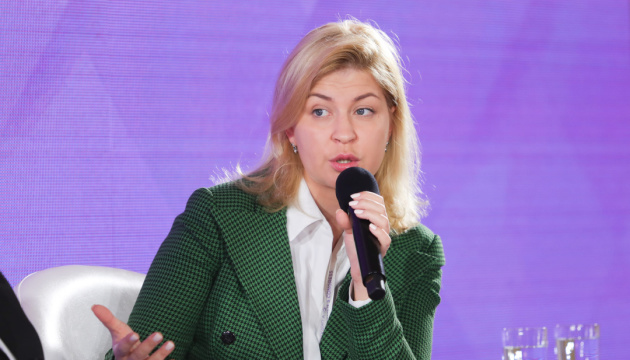 Ukraine going through most difficult stage of achieving gender equality - Stefanishyna
Ukraine is currently going through the most difficult stage of achieving gender equality, which is to overcome domestic violence, ensure a barrier-free environment and provide access to jobs, Ukraine's Deputy Prime Minister for European and Euro-Atlantic Integration Olha Stefanishyna has said.
She said this in her speech at the Fifth Ukrainian Women's Congress in Kyiv on Wednesday, September 15, according to an Ukrinform correspondent.
Stefanishyna recalled that over the period of its independence Ukraine acceded to virtually all international conventions on human rights and gender equality, was an active participant in the implementation of the UN Security Council resolution on women, peace and security and joined the Biarritz Partnership initiative a year ago.
"But today we are going through the most difficult stage, because we are not talking about popular and beautiful work related to the adoption of legislation or ratification of conventions or participation in international organizations, but about equality, which we do not see when it comes to domestic violence, a barrier-free environment, integrity, access to the profession or the issue of the budget," Stefanishyna said.
In this context, she recalled that Ukraine had joined the Biarritz Partnership and adopted an action plan, but "it can be implemented when you have the budget for it."
"It is a great challenge for me as a woman government official to promote these things in a strict male society of government officials when the necessary funds and budget are needed for everything. But these are the things that really change the rules of the game," Stefanishyna said.
The Biarritz Partnership was launched by G7 leaders at a summit in Biarritz (France) on August 25, 2019, under the chairmanship of French President Emmanuel Macron. The purpose of the initiative is to strengthen the responsibility of the G7 and to consolidate efforts of other countries to achieve gender equality.
On September 11, 2020, Ukraine joined the Biarritz Partnership. Ukraine undertook commitments in five areas, among them developing a barrier-free public space friendly to families with children and low-mobility groups, teaching children the principles of equality between women and men, preventing violence, reducing the pay gap between women and men, and creating greater opportunities for men to care for children.
op