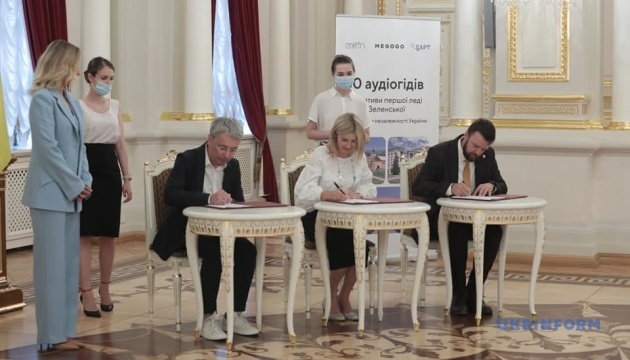 Ukrainian- and English-language audio guides to be launched at 30 Ukrainian cultural attractions
As part of the initiative of First Lady of Ukraine Olena Zelenska, a memorandum on the launch of Ukrainian- and English-language audio guides at Ukrainian cultural attractions was signed between the Ministry of Culture and Information Policy, the State Agency for Tourism Development and the MEGOGO media service.
The document was signed at the Mariinsky Palace on August 17, an Ukrinform correspondent reports.
"Our goal here is not classical diplomacy, which speaks the language of official statements, but cultural diplomacy, which speaks a language understood by all. It is a language of emotions, a language of impressions. Culture is the largest platform for dialogue. Culture is a bridge between people, between countries, and therefore cultural diplomacy for me is an opportunity to show Ukraine, tell about it and everything Ukrainian to the world, as well as to show Ukrainians the world. This is what we are working on, building a network of Ukrainian-language audio guides abroad. Thanks to the support of our diplomats, there are already 27 [audio guides aboard]," Olena Zelenska said during the signing ceremony.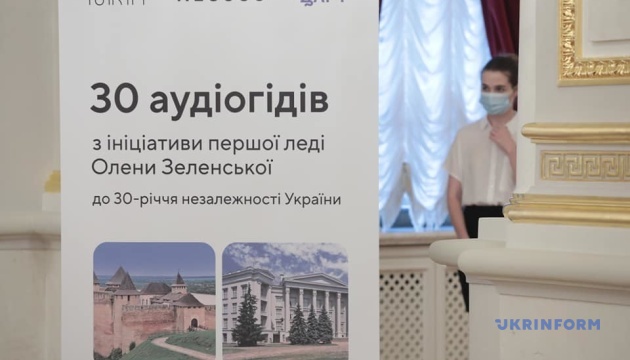 Minister of Culture and Information Policy Oleksandr Tkachenko noted that audio guides would be introduced in 30 Ukrainian museums and national reserves throughout Ukraine. According to him, due to such audio guides, adults and children will be able to be acquainted with the expositions of various museums, and foreigners will learn more about the Ukrainian cultural heritage.
The project will have two language versions - Ukrainian and English. Audio guides can be used both when visiting the location and listening to them at any other time.
As Ukrinform reported, as part of the initiative of First Lady of Ukraine Olena Zelenska, the 28th Ukrainian-language audio guide was launched. From now on, the Ukrainian language can be heard on the GRAY LINE tourist bus routes of the Athens Open Tour Greek company.
iy