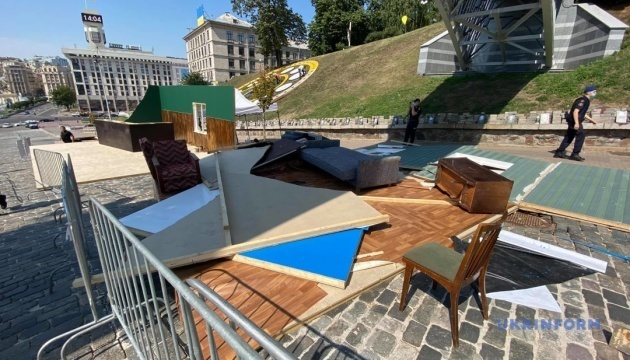 Activists destroy "Soviet-style" installation in Kyiv center, clash with police
A group of individuals on Tuesday demolished on the Alley of the Heavenly Hundred Heroes in Kyiv a Soviet-style art installation set up to serve as part of the props for the Independence Day celebrations.
That's according to an Ukrinform correspondent.
It should be noted that the Alley of the Heavenly Hundred Heroes is one of the sites where the most tragic events of the Revolution of Dignity unfolded in February 2014 as dozens of protesters were shot dead, presumably by security forces. Investigation into the deadly incident has been dragging ever since.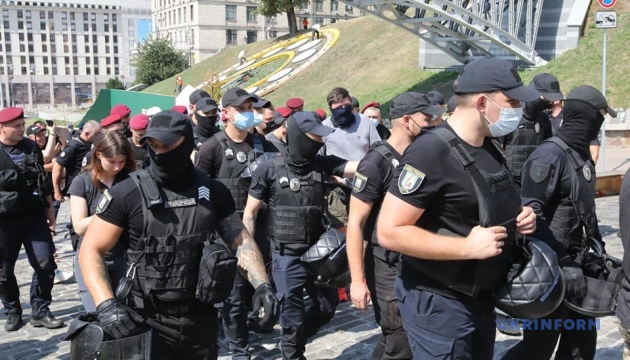 Amid the effort to dismantle the art object, clashes with police ensued.
Several individuals were detained.
Several dozen police officers are present at the scene, while the area has been fenced off.
The situation is generally calm, the correspondent adds.
As Ukrinform reported earlier, Director General of the National Museum of the Revolution of Dignity, Ihor Poshyvailo, said a number of art installations were being set up on the Alley of the Heavenly Hundred Heroes to depict the history of Ukraine from ancient times to the present.
He noted that the museum had received no formal letters that would provide details on the nature of the installations in question.
At the same time, Kyiv Mayor Vitaliy Klitschko said that Soviet-style objects were "inappropriate" for the location.
Ukraine will celebrate Independence Day on August 24.
The events marking the anniversary will launch on August 22.
im