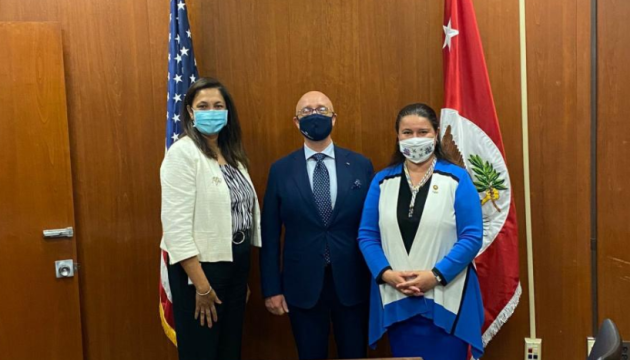 Reznikov discusses increase in U.S. aid for humanitarian projects
During his working visit to the United States, Deputy Prime Minister – Minister for Reintegration of the Temporarily Occupied Territories of Ukraine Oleksiy Reznikov met with representatives of the U.S. Department of State and raised the issue of increasing assistance for humanitarian projects in Ukraine.
As the Ministry's press service informs, Reznikov met with Uzra Zeya, Under Secretary for Civilian Security, Democracy, and Human Rights, and Nancy Izzo Jackson, Acting Deputy Secretary of State for Population, Refugees, and Migration.
"Deputy Prime Minister of Ukraine Oleksiy Reznikov also raised the issue of increasing assistance for humanitarian projects, especially on internally displaced persons and the Ukrainian population living in territorial communities located near or separated with a line of contact, as well as the issues related to mine action," reads the statement.
It is also noted that the American side stressed the U.S. commitment to the independence, territorial integrity, and sovereignty of Ukraine, as well as expressed support for the Crimea Platform initiative. The parties stressed their desire to further strengthen cooperation within the framework of U.S. programs to help the war-affected population.
"During the meetings with senior officials of the U.S. Department of State, the parties also discussed the peace process, the situation in the region, the promotion of Ukrainian reforms, as well as the need to help Ukraine transform the country," the Ministry of Reintegration informed.
In addition, the parties discussed Ukraine's strategy for the reintegration of the temporarily occupied territories after their liberation and the preparation by the Government of relevant comprehensive legislation to be soon adopted by the Verkhovna Rada of Ukraine.
Reznikov also briefed the American side on the areas in which the Government of Ukraine works. In particular, on the draft law "On State Principles of Transition Period", which is based on the principles of non-discrimination, gender equality, inclusiveness, and removal of procedural, institutional, and social barriers, including the principles of transitional justice, judicial reform, strategy for the economic development of Donetsk and Luhansk regions, the implementation of which is planned from 2022.
ol