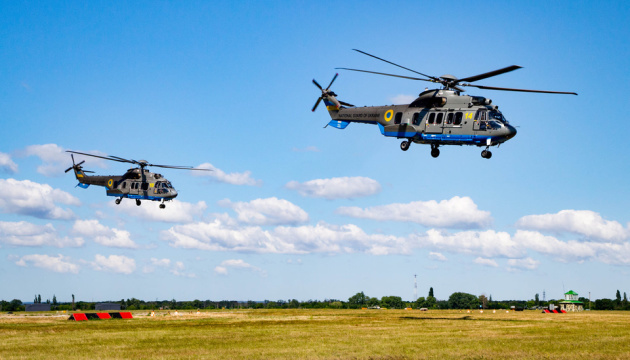 Independence Day Parade preparations: National Guard's helicopter crews do training flights over Kyiv
National Guard pilots operating French-made Airbus helicopters have kicked off flight training routine ahead of the Independence Day Parade set to be held in Kyiv August 24.
That's according to the press service of the Ministry of Internal Affairs, Ukrinform reports referring to the ministry's Telegram channel.
"Guards crews who will pilot aircraft during their Khreshchatyk Street flyover in Kyiv on August 24, have launched training flights to work out group coordination," the statement said.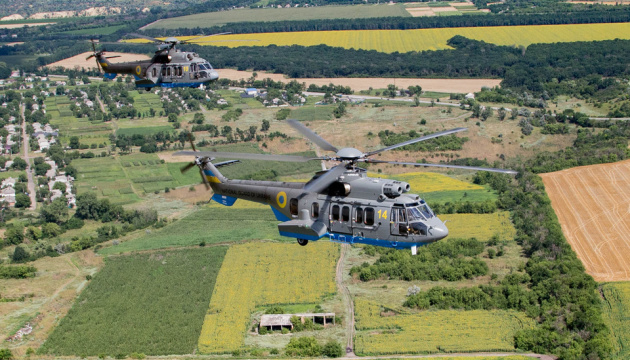 On Independence Day, the National Guard will be showcasing the recently acquired Airbus EC 225 LP helicopters.
As reminded in the Ministry of Internal Affairs, the National Guard has so far accepted for service four modern French aircraft, while their Ukrainian crews have passed the relevant training abroad.
As Ukrinform reported, in July Ukrainian border guards carried out training flights over the Carpathians on their Airbus H125 helicopters.
Background
Ukraine marks Independence Day on August 24.
Official events on the occasion of Ukraine's Independence Day will last for three days this year. Up to 30 foreign delegations are expected to arrive in Kyiv.
In particular, a parade dedicated to Independence Day of Ukraine will take place on August 24, and the Crimean Platform's inaugural summit will be held on August 23.
im