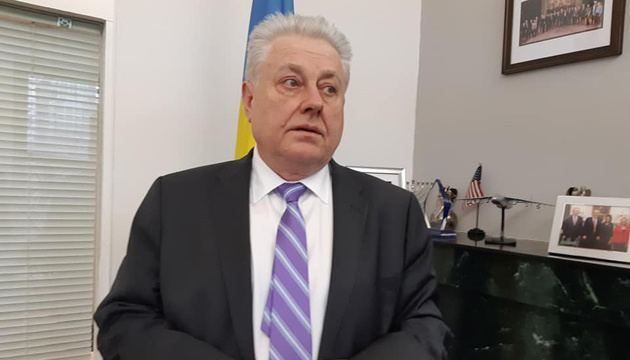 Ambassador: Ukraine continues negotiations on COVID-19 vaccine supply with United States
The Embassy of Ukraine in the United States held preparatory talks with Pfizer, Moderna, Johnson & Johnson to receive COVID-19 vaccine back in summer. Now the talks are held at the level of the Ministry of Health.
"Speaking about the Embassy, ​​we started these contacts in the middle of summer last year. From the end of July, I held conversations with the management of Pfizer, Moderna, Johnson & Johnson, and especially important was my conversation with the USAID officer in charge of Ukraine," Ambassador of Ukraine to the United States Volodymyr Yelchenko said, an Ukrinform correspondent reports.
According to him, all the preliminary preparation by the Embassy was carried out in full: "Then it was up to the Ministry of Health of Ukraine and our other ministries and agencies. These are already commercial issues - about the price and reliability of vaccines."
Yelchenko explained that he could not comment on the course of the talks, but assured that "this work continues at a professional level between representatives of the Ministry of Health of Ukraine and relevant American companies" mainly through the companies' offices in Europe or representative offices in Kyiv.
In addition, the Ambassador noted that the USAID allocated about $20 million for the preparation of infrastructure for vaccine supply to Ukraine and organizational issues.
He explained that both the issues of ultra low temperature freezers and training of personnel are important. "Even the infrastructure in some US states has turned out to be unprepared for such mass vaccination," Yelchenko added.
When asked whether Ukrainians may rely on the supply of American vaccine at least under the USAID program, Yelchenko replied: "Yes we can, at the very least."
At the same time, he added that direct commercial contacts are possible, which will allow getting the vaccine at a charge earlier.
According to the Ambassador, supplies under the USAID program are designed primarily to vaccinate 100,000 Ukrainian healthcare workers at the frontline of the fight against the pandemic. Of them, about two-thirds stay in the JFO area in eastern Ukraine so this issue refers not so much to medicine as to security.
"At the USAID level, we have been assured that Americans will not forget about us. In general, Ukraine ranks first in the Eastern European region in terms of the priority of aid," the Ambassador stressed.
But for that, he said, we need to see what the first steps of the Biden administration will be. In this context, the diplomat recalled President Trump's order banning the vaccine sale abroad until the entire US population is vaccinated.
"Biden has promised to reconsider this position. If this happens, the process will be significantly accelerated," Yelchenko said.
ol