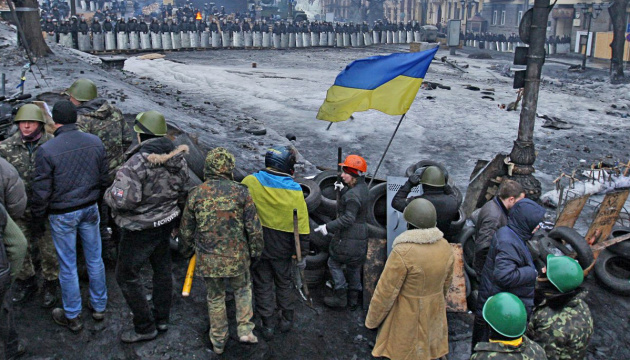 Ukraine marks Day of Dignity and Freedom
On Saturday, November 21, Ukraine marks the Day of Dignity and Freedom.
The holiday was established in accordance with the presidential decree of November 13, 2014 in honor of the commencement on this day of two significant and fateful events in contemporary Ukrainian history - the 2004 Orange Revolution and the 2013 Revolution of Dignity.
The Day of Dignity and Freedom became a kind of successor to the Freedom Day holiday, which was celebrated in honor of the Orange Revolution on November 22 from 2005 to 2011 but was later canceled.
It was on November 21, 2013, when Ukrainians started to hold the first protest rallies in response to the decision of the then government to stop the country's movement towards European integration and freeze preparations for the signing of the EU-Ukraine Association Agreement. The change in the legislatively enshrined priorities of Ukraine's foreign policy triggered the indignation of Ukrainians.
It became apparent to the Ukrainian society that the country was rapidly approaching total authoritarianism with its disregard for fundamental human rights, total corruption, arbitrariness of law enforcement agencies, repression, and terror. This is what made Ukrainians first take to the streets of Kyiv and then other cities of Ukraine.
The events unfolded rapidly and dramatically - from peaceful student gatherings to mass rallies, burning car tires, Molotov cocktails and cobblestones that became weapons in the hands of protesters. The most tragic thing was that this time, unlike the events of the Orange Revolution, the defense of dignity and freedom led to 106 deaths and over 2,000 people wounded. And that was only the price of three months of Euromaidan protests. In the spring of 2014, Russia's military aggression began, accompanied by the occupation of Crimea and certain areas of Donetsk and Luhansk regions.
On the Day of Dignity and Freedom, traditional memorial events – prayer services, laying flowers, memorial services in churches – will be held throughout Ukraine.
Prime Minister Denys Shmyhal and Speaker of the Verkhovna Rada Dmytro Razumkov congratulated Ukrainians on the Day of Dignity and Freedom.
"Living with dignity and choosing one's future is an inalienable right of each of us. I am sure that this unity will always be one of the key drivers of the development of the Ukrainian state. I bow my head in memory of the heroes. I thank all Ukrainians for their patriotism, courage and dedication in defending our country and its European vector of development," the Prime Minister said.
"On the Day of Dignity and Freedom, we remember the events that took place on our path to European development, and the people whose courage influenced the course of history. We have one goal - to build a democratic, independent and economically strong country. And I sincerely believe that together we will achieve it!" the Speaker of the Verkhovna Rada emphasized.
ol