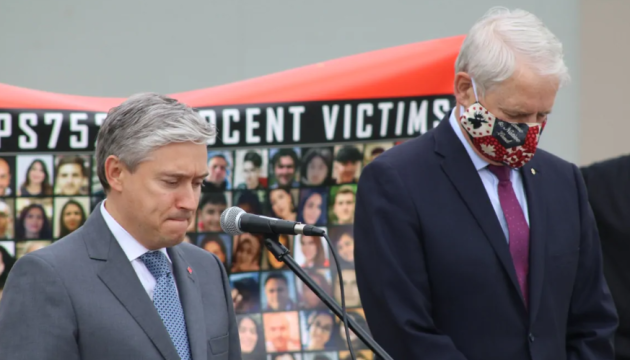 Rallies demanding to investigate UIA plane crash held in Canada's largest cities
Activists gathered in six Canadian cities to commemorate the victims of the crash of Flight PS752, shot down at Tehran airport in January. The rally participants demanded to bring the perpetrators to justice.
As an Ukrinform correspondent reported, the rallies took place in Ottawa, Edmonton, Toronto, Montreal, Winnipeg, and Calgary.
Canada's Minister of Foreign Affairs François-Philippe Champagne took part in the rally in Ottawa. He said that "the Iranian regime, which does not want to go into details, will not be able to intimidate us."
The minister also criticized the International Civil Aviation Organization (ICAO), saying it does not make enough efforts to prevent such tragedies in the future: "I have said many times that ICAO should do more for compliance with international conventions on air safety. They must take responsibility for what needs to be done to achieve justice and also support Canada's Safer Skies Strategy.
Canada's Minister of Transport Marc Garneau, Ambassador of Ukraine to Canada Andriy Shevchenko and more than two dozen relatives and friends of those killed in the plane crash joined the rally in Ottawa. "Family members demand a fair and comprehensive investigation without any intervention from the Iranian government," said Hamed Esmaeilion, spokesperson for victims' families.
On January 8, 2020, Ukraine International Airlines Flight PS752 was shot down near Tehran by an Iranian surface-to-air missile, killing 176 people, including nine crew members (all Ukrainians) and 167 passengers (citizens of Ukraine, Iran, Canada, Sweden, Afghanistan, Germany, and the UK).
On July 18, France's Civil Aviation Safety Investigation Authority received Flight PS752's recorders from Iran. Ukraine's Deputy Prosecutor General Yevhen Yenin said later that the transcript from Flight PS752's recorders had confirmed illegal interference with the plane.
Negotiations on compensation for the downing of Flight PS752 took place in Kyiv on July 30 with the participation of the Iranian delegation.
Ukraine's Prosecutor General's Office announced on July 31 that the next round of talks with Iran on the investigation into the plane crash was scheduled for October.
Last week, Canada announced the creation of a special forensic team to verify information provided by the Iranian side within the framework of the investigation.
Photo credit: Ashley Burke/CBC National News
ol