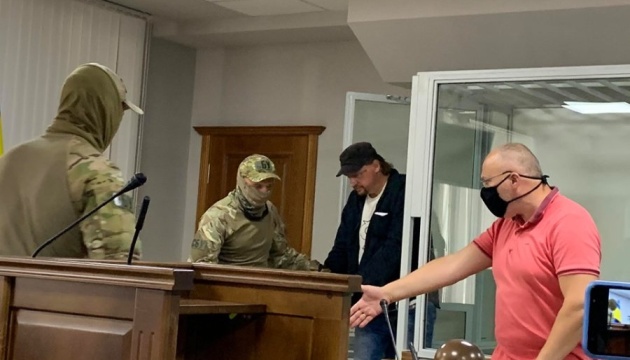 Court arrests 'Lutsk terrorist' for two months
Lutsk City District Court of the Volyn Region has arrested "Lutsk terrorist" Maksym Kryvosh for two months until September 18 inclusive, with no right to post bail, according to an Ukrinform correspondent.
The detainee refused to stand up in court, saying he had no right to be tried. He claimed that the "main terrorist" was the state. He also stated that he had no accomplice and proposed that he pass a lie detector test.
When asked by journalists what made him surrender, he said that President Volodymyr Zelensky had fulfilled his condition by posting a video on social media. The fact that the video was later removed from the Facebook page of the head of state did not embarrass Kryvosh as he believes that a sufficient number of people watched it. He promised to tell about what he talked to Zelensky for 15 minutes in his closing remarks at the last hearing in the case.
The defendant claimed that he had chosen the bus and the date for its capture accidentally. He apologized to the bus hostages and said he was ready to apologize again, but added that he did not regret what he did.
As was reported earlier, a gunman seized a bus with 13 passengers in Lutsk early on July 21. The hostage-taker is Maksym Kryvosh, who has already been convicted twice and spent ten years in jail for serious crimes. He agreed to surrender after the president published a video with the agreed text on the Internet.
Kryvosh was charged with committing crimes under Part 1 of Article 258 (a terrorist attack), Article 263 (illegal handling of weapons and explosive devices), Article 348 (attempt on the life of a law enforcement officer), and Article 147 (hostage-taking) of the Criminal Code of Ukraine.
op