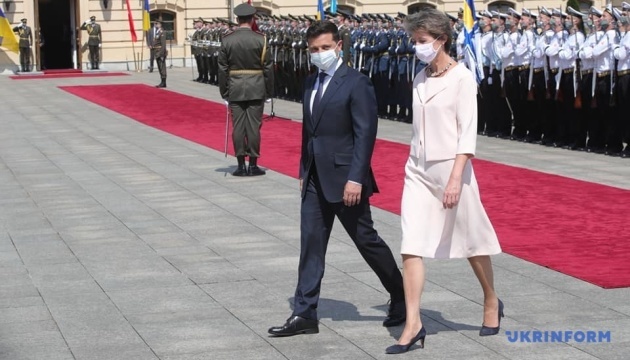 Switzerland allocates CHF 108M for humanitarian aid to Ukraine – Zelensky
Switzerland has allocated 108 million Swiss francs for humanitarian aid to Ukraine as part of bilateral cooperation.
President Volodymyr Zelensky said this at a press conference after meeting with President of the Swiss Confederation Simonetta Sommaruga in Kyiv today, an Ukrinform correspondent reports.
"Together with Madame President, we agreed to develop areas of cooperation that are of mutual interest for both countries. The areas are determined by the memorandum of partnership on bilateral relations, which was signed today. It is important that the signing of the memorandum has launched a program of cooperation between Switzerland and Ukraine for the next three years. To implement the program, the Swiss side allocated 108 million Swiss francs for humanitarian and technical assistance," Zelensky said.
He noted that this is the first time in the history of diplomatic relations between the two countries that the President of the Swiss Confederation has visited Ukraine on a state visit.
"Our negotiations were fruitful and meaningful. Without a doubt, Ukraine and Switzerland are interested in developing further partnership and bilateral cooperation. We talked a lot about peace in Donbas, about the steps that Ukraine, together with its partners, is taking to establish peace. I am grateful to Switzerland for its clear and consistent support of our state sovereignty and the preservation of restrictive measures against the Russian Federation until the restoration of the territorial integrity of Ukraine," Zelensky noted.
He also stressed that Switzerland is the only state that provides humanitarian assistance to Ukrainians who have suffered from the war in Donbas on both sides of the contact line.
As reported, on July 20-23, President of the Swiss Confederation Simonetta Sommaruga makes a state visit to Ukraine at the invitation of President Volodymyr Zelensky.
During the visit, Zelensky and Sommaruga are expected to make a joint working visit to Donbas to get acquainted with the security and socio-economic situation in the region and the progress of implementation of Swiss humanitarian aid projects.
ish