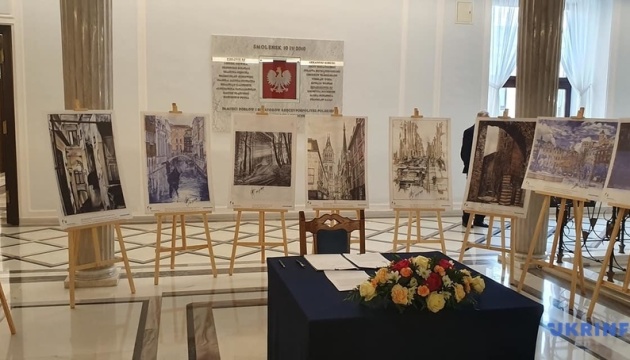 Exhibition of Sushchenko's drawings opens in Poland's Sejm
An exhibition of drawings of Ukrinform correspondent Roman Sushchenko, a former Kremlin captive, has opened in Poland's Sejm.
The exposition consists of reproductions of drawings created by the Ukrainian journalist during 2016-2018 during his stay in the Lefortovo prison and penal colony No. 11 in Utrobino, the Kirov region.
"The arrest of the journalist in 2016 and his unlawful detention for more than 970 days can be recognized not only as a personal attack but also as an attempt on fundamental civil liberty - freedom of speech. That is why we are very glad that after many difficult moments Roman Sushchenko is among us, at large. His return from prison is a clear success of the international community, which has strongly demanded the release of Mr. Roman and all those who remain in Russian prisons," said Deputy Marshal of the Sejm Malgorzata Gosiewska, who initiated the holding of the exhibition in the Polish parliament.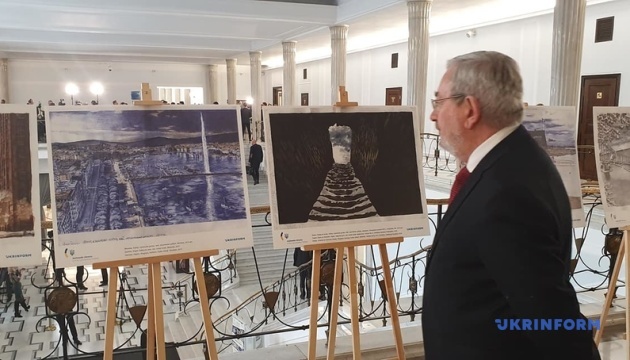 Poland has actively supported and will support the international community's efforts to release all Ukrainian political prisoners from Russian prisons, she said.
In this regard, Ukrainian Ambassador to Poland Andrii Deshchytsia thanked Polish politicians for raising the issue of Ukrainian political prisoners at international meetings and forums of various organizations.
"I thank you very much for your help in the release of our political prisoners and for support of Ukraine in this difficult time of the struggle against Russian aggression," the diplomat said.
He added that any voice of Polish society is very important to Ukraine.
Deschytsia recalled that according to recent polls, more than 60% of Ukrainians consider the Polish people to be the most friendly to Ukraine.
Sushchenko, in turn, expressed gratitude for organizing the exhibition in the Sejm and for a "strong Polish signal" regarding the support of the Ukrainian people, who did not remain alone with the Russian aggressor.
"Thank you also for the human dimension. It is a signal to those in prison today that they were not left alone," the journalist said.
The exhibition was attended by Polish deputies, Ukrainian and foreign diplomats, representatives of the Ukrainian community of Poland, as well as Polish and foreign journalists.
op