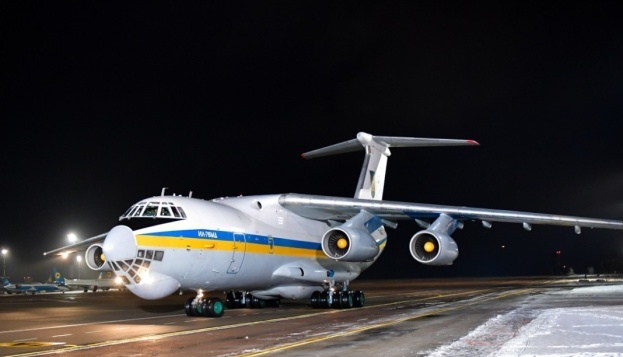 UIA plane crash: Ukrainian rescuers arrive in Iran
Ukrainian experts and rescuers have arrived in the Iranian capital, Tehran, to jointly investigate the causes of the crash of a Ukraine International Airlines (UIA) plane, the Office of the President has reported.
"A plane with Ukrainian experts has currently landed in Tehran. They were met by embassy and consulate representatives," the report reads.
According to Ukrainian presidential spokesperson Iuliia Mendel, experts include representatives of the State Emergency Service, the Defense Ministry, the Foreign Ministry, the Interior Ministry, the Security Service of Ukraine, the National Security and Defense Council, the State Aviation Service, the National Bureau of Air Accidents Investigation and UIA.
"On January 9, at 03:30, the Il-76 aircraft of the Ukrainian Armed Forces with expert and search and rescue teams on board landed at the Tehran airport of the Islamic Republic of Iran," the press service of the State Emergency Service of Ukraine reported.
A Ukraine International Airlines plane (Flight PS752) heading from Tehran to Kyiv crashed shortly after taking off from the Imam Khomeini International Airport at about 06:00 Tehran time (04:30 Kyiv time) on Wednesday, January 8.
В Ірані приземлився літак з 45 українськими спеціалістами

15 рятувальників, 4 слідчих та 3 експерти МВС будуть допомагати розслідувати причини трагедії з Boeing 737.

Сьогодні в Україні оголошено день трауру та жалоби за загиблими громадянами.

Вічна пам'ять pic.twitter.com/TXljW7JG7p

— МВС України (@MVS_UA) 9 января 2020 г.
There were 176 people on board the aircraft - 167 passengers (including two Ukrainians) and nine crew (all Ukrainians). Most victims of the Ukrainian plane crash in Tehran are citizens of Iran (82) and Canada (63). The crash also killed ten Swedes, four citizens of Afghanistan, three Germans, and three Britons.
The probable cause of the plane crash is an engine failure.
Earlier, UIA released a list of deceased crewmembers - three pilots and six flight attendants.
op