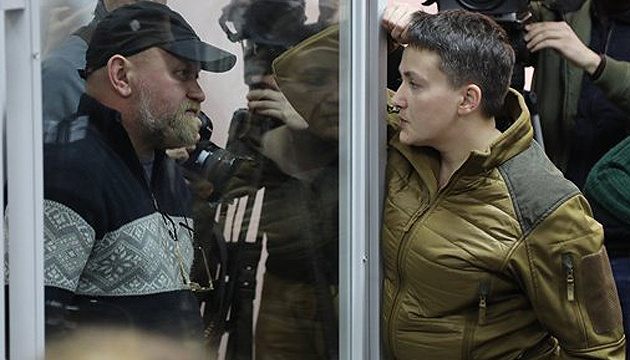 Savchenko, Ruban released from custody in courtroom
Brovary Court of Kyiv Region has decided to release Volodymyr Ruban and Nadiya Savchenko from custody in the courtroom, according to the Novoye Vremya online news site.
The court made such a decision because the term of the preventive measure for them has expired, and the new one has not been chosen.
"I wish freedom to everyone who was unfairly convicted. I don't violate the rules, I don't run abroad, as prosecutors guaranteed. I don't escape from Ukraine because I'm a Hero of Ukraine. Ukraine is not just a word for me. I will fight for Ukraine," Savchenko said.
Ruban was arrested at the Mayorske checkpoint in Donbas on March 8, 2018. According to law enforcement authorities, he tried to bring a large batch of weapons out of the occupied territory of Donetsk region. Ruban is suspected of illicit handling of weapons and plotting terrorist attacks, including armed attacks on state officials and political leaders.
Savchenko is considered to be Ruban's accomplice. On March 22, 2018, the Verkhovna Rada agreed to strip her of parliamentary immunity, as well as to prosecute, detain and arrest her. She was arrested on the same day.
Savchenko is charged with a number of crimes stipulated by seven articles of the Criminal Code of Ukraine, in particular, committing actions aimed at violent toppling of the constitutional order and seizure of state power.
op