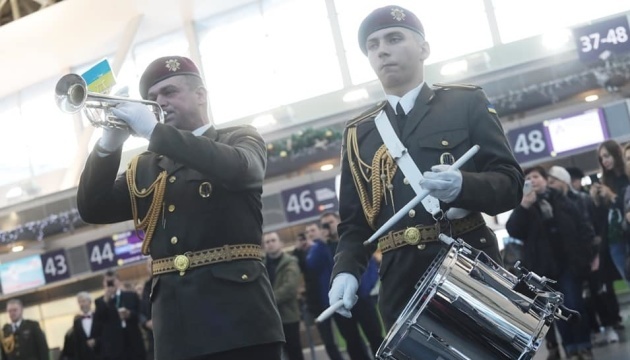 Ukrainian 'cyborgs' commemorated in seven airports. Photos
The military bands of the Armed Forces of Ukraine give concerts to commemorate the defenders of the Donetsk airport (called "cyborgs") in seven airports and two shopping centers in the largest cities in the country.
As the organizers of the concert at the Boryspil International Airport noted, the thematic event is timed to coincide with the anniversary of the 242-day heroic defense of the Donetsk International Airport, which became a symbol of courage, invincibility of spirit and professional excellence of Ukrainian servicemen in the modern history of Ukraine, an Ukrinform correspondent reports.
"The Donetsk airport was advanced, like the Boryspil airport, but the guys, whom we later started to call "cyborgs", defended that outpost for 242 days. The band performed Sergei Prokofiev's Dance of the Knights from the Romeo and Juliet ballet, and we started our concert with Beethoven's Seventh Symphony," said Volodymyr Dashkovsky, the chief military conductor of the Ukrainian Armed Forces.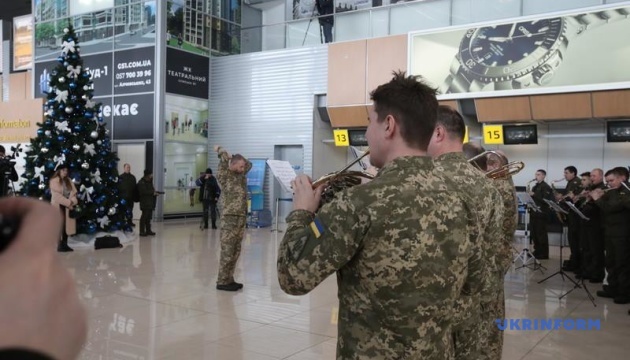 The similar events will be held today in eight more regional centers of the country: Vinnytsia, Dnipro, Zaporizhzhia, Ivano-Frankivsk, Lviv, Odesa, Kharkiv and Chernihiv.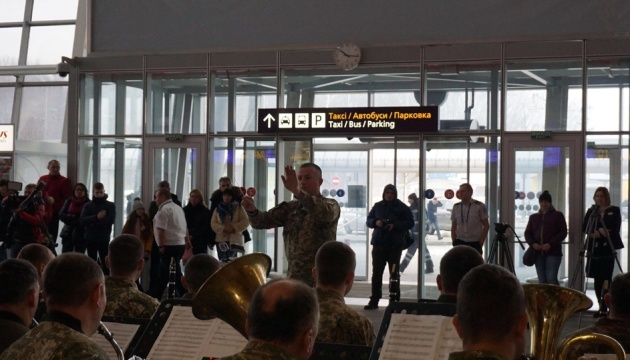 As the organizers of the event explained, there are no airports in Vinnytsia and Chernihiv, so the orchestra performances will take place in the largest shopping centers to enable the largest possible number of citizens to join commemoration of the cyborgs.