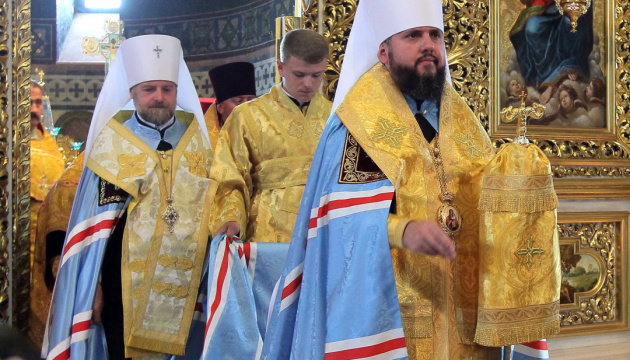 Metropolitan Epifaniy elected primate of Ukrainian Orthodox Church
Metropolitan of Pereiaslav and Bila Tserkva Epifaniy (Serhiy Dumenko) has been elected primate of the local Ukrainian Orthodox Church.
Epifaniy was elected by secret ballot at the unification council of the Ukrainian Autocephalous Orthodox Church held at Kyiv's St. Sophia Cathedral on Saturday, December 15, an Ukrinform correspondent reported.
He was nominated by the Bishops' Council of the Ukrainian Orthodox Church of the Kyiv Patriarchate on Thursday.
"Today is December 15. This day will go down in history as a sacred day, a day of the creation of the Ukrainian Autocephalous Orthodox Church, a day of final independence from the Russian Federation," President of Ukraine Petro Poroshenko said. He together with Metropolitan Epifaniy addressed people at the square near St. Sophia Cathedral.
President Poroshenko stressed that "the issue of autocephaly is an issue of our Ukrainian national security." "Finally, we gain spiritual independence, which can be compared with gaining political independence. We cut off the chains that bind us to the empire. We return to our God-determined path and go our own way," the president noted.
ish