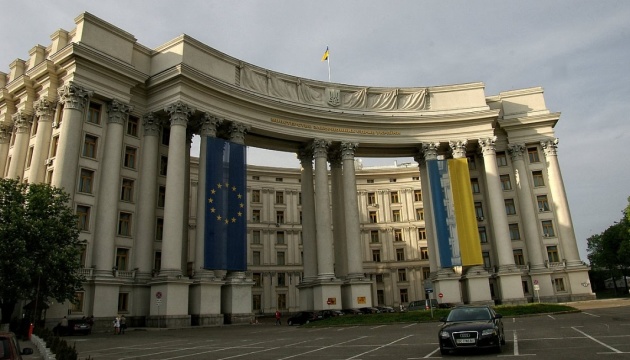 Ukraine wants to know what OSCE is doing to prevent Russian espionage in mission
The Ukrainian Foreign Ministry is concerned about reports of the leak of official data of the OSCE Special Monitoring Mission to Ukraine (OSCE SMM) in favor of Russian intelligence services and asked the mission to provide information about measures to be taken to prevent the repetition of such cases.
"The Ministry of Foreign Affairs of Ukraine has taken with concern the announcement of a threat to the security of members of the OSCE Special Monitoring Mission (SMM) to Ukraine as a result of the possible intervention of the special services of the Russian Federation in the work of the SMM aimed at discrediting the monitoring activities of the SMM in accordance with its mandate. In this regard, the MFA appealed to the SMM with the request to provide information about the measures that will be taken to prevent the repetition of such cases in the future," the ministry said in a commentary on Thursday, July 19.
The ministry also emphasized that the Ukrainian side condemns any actions that adversely affect the safety of SMM observers, in particular threats to them, restriction of freedom of movement or the theft of official or private information.
The Foreign Ministry also strongly condemns Russia's continuing policy of aggression against Ukraine, including by undermining the authority of the SMM and obstructing the fulfillment of the mission of its mandate.
Earlier, German television channel ARD reported the detection of facts of espionage in the OSCE mission in Ukraine. According to the investigation, data was transmitted to Russia's FSB.
The OSCE Special Monitoring Mission to Ukraine began its work on March 21, 2014, on the basis of a request from the Government of Ukraine to the OSCE and a consensus decision of all 57 OSCE participating states.
The SMM is an unarmed, civilian mission, with the mandate to monitor and report on the crisis situation in Ukraine and to facilitate dialogue among all parties to the crisis.
op