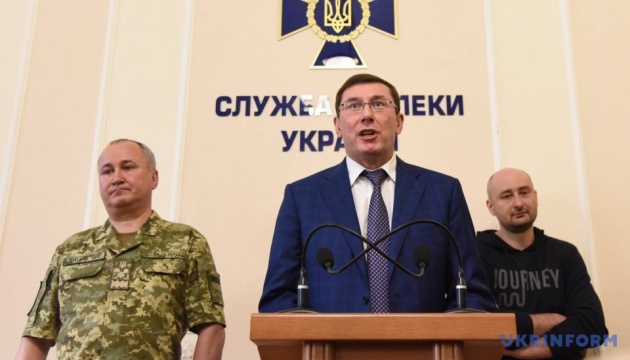 Lutsenko, Hrytsak to inform G7 ambassadors about Babchenko case
Ukrainian Prosecutor General Yuriy Lutsenko and SBU Chief Vasyl Hrytsak will meet with G7 ambassadors for clarification in the case on staging the murder of Russian journalist Arkady Babchenko.
Prosecutor General Yuriy Lutsenko said this in a program "The Right to Power" on May 31.
"The head of the Security Service of Ukraine, involved officers and I will have a meeting with G7 diplomats at the Prosecutor General's Office on June 1.We will explain everything that we can explain within the secrecy of the investigation, and I am sure that diplomats will take a position, which, for example, was announced by the head of the British diplomatic service, who clearly states that the country must defend itself, and Russia must be punished. I am convinced that this is the right thesis," he said.
Earlier reports said that on May 29, 41-year-old journalist Arkady Babchenko was fatally wounded near his apartment in Kyiv on May 29. Criminal proceedings were opened over the murder of the journalist.
On Wednesday, May 30, it turned out that Babchenko is alive. Security Service of Ukraine (SBU) Chief Vasyl Hrytsak said that Russian intelligence services had ordered the murder of the journalist and the SBU conducted a special operation to prevent the assassination attempt. Ukrainian special services detained the organizer of the journalist's murder during a special operation in Kyiv.
op